When the man of the house engaged Red Land Design for the second time; the first time was his previous home where we did the magic touch back in 2014, this time around, he wants this to become the final home for his family. This is where the necessity of being perfection in result on our design and craftmanship specially custom-tailored for them.
Project curated by Chris Lau
Photographer by Kenny Ho
As a successful and respectful business person, Jun is a humble gentleman that put family above everything. Moving from terrace to a new bungalow, he needs to ensures the house design element fits all of his family members, with no lack of creativity feature which transcend from other typical house interior design.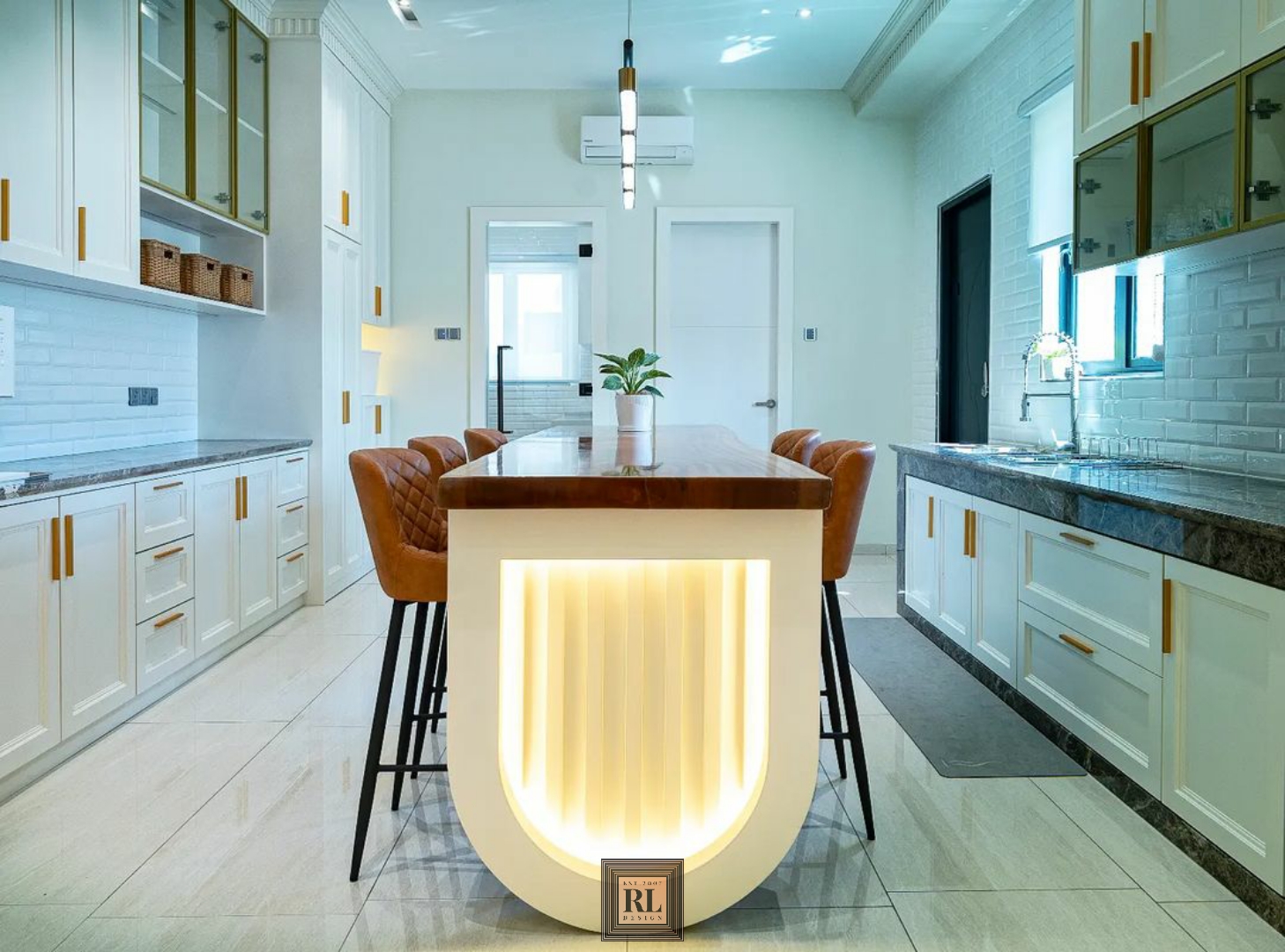 Such as the dry kitchen, while preventing it just another one hit wonder, we enhanced the design with uniquely hand crafted a half oval shape side leg structure to support a special selected rain tree wood counter top.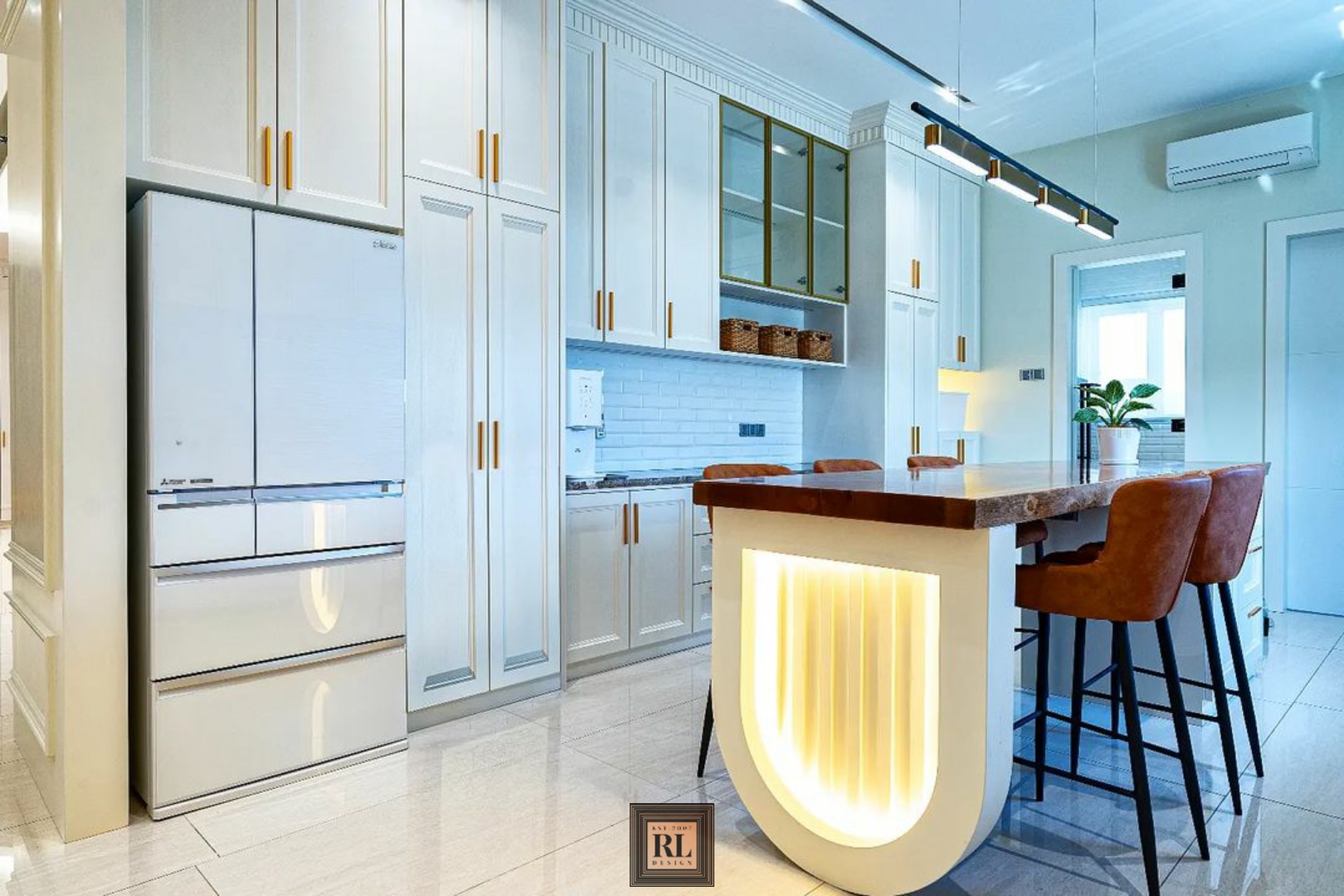 Custom mixed ivory white paint coat was applied on this newly installed kitchen cabinet. The hue has been known to evoke feeling of calmness and relaxation.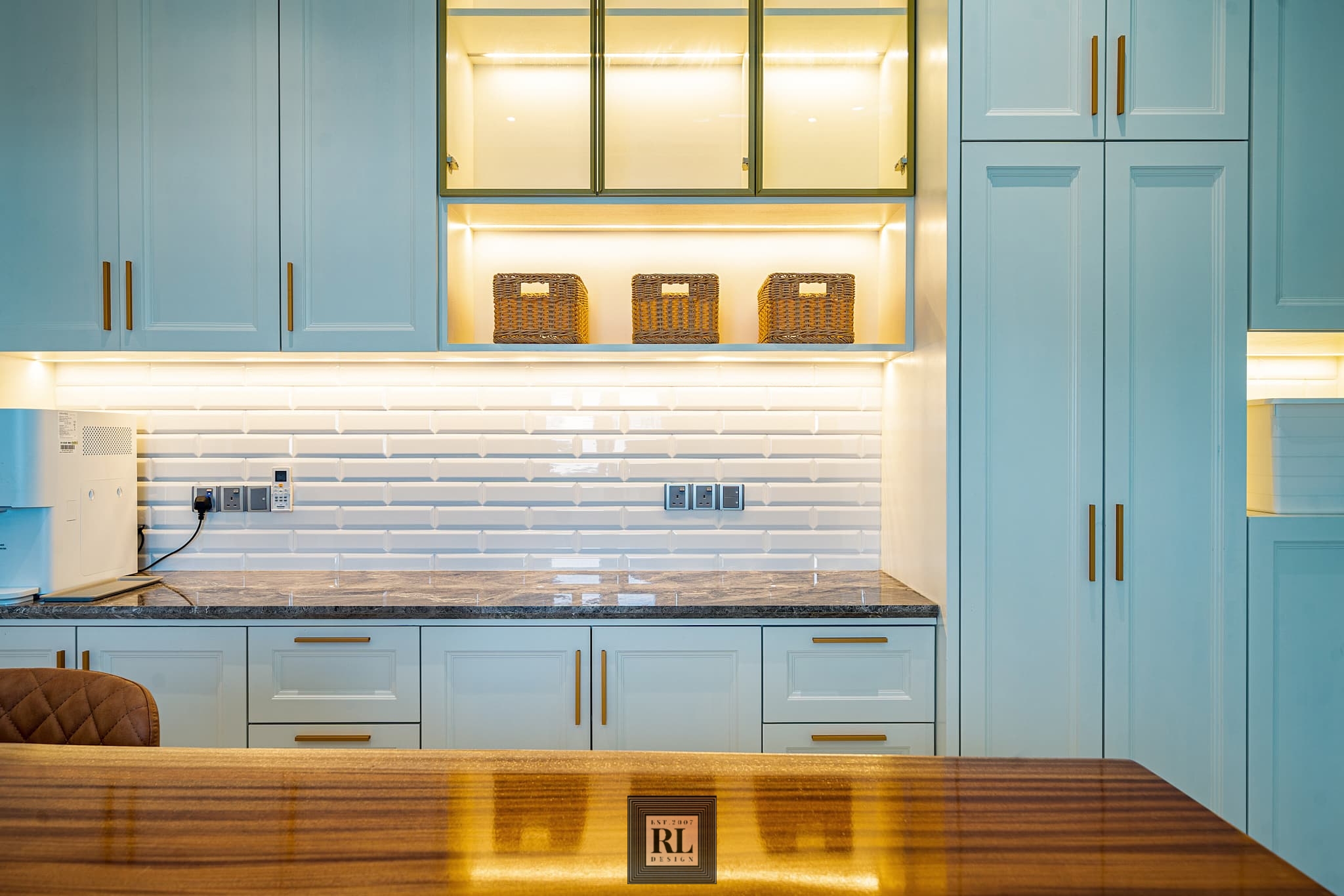 Crafted using a well selected solid acacia wood, this unique piece for counter top finished with thick epoxy layer through special technique to create such sleek finishes.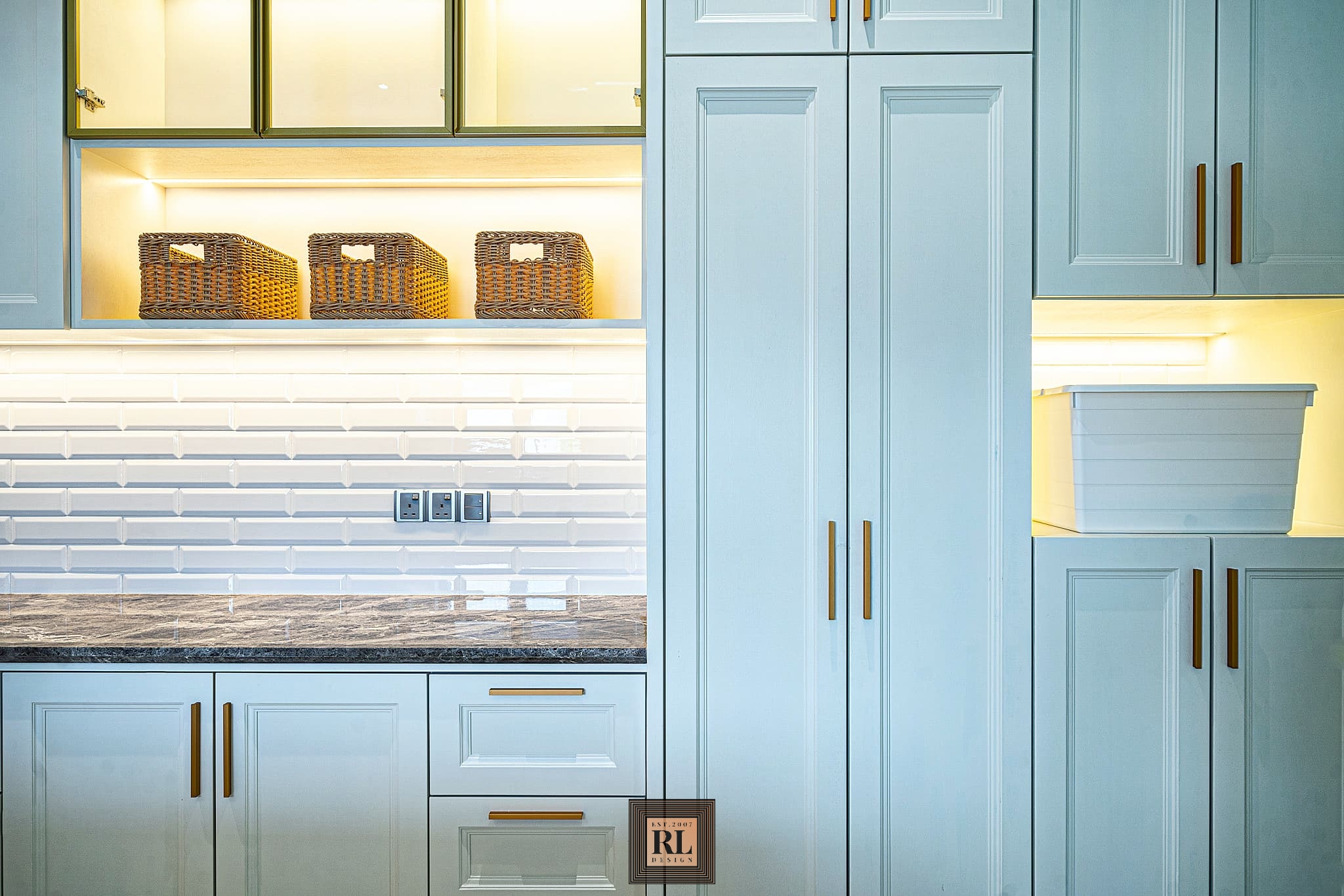 With some luxury touch without overdoing it, minor gold feature can be found through cabinet knobs and steel framed on glass door.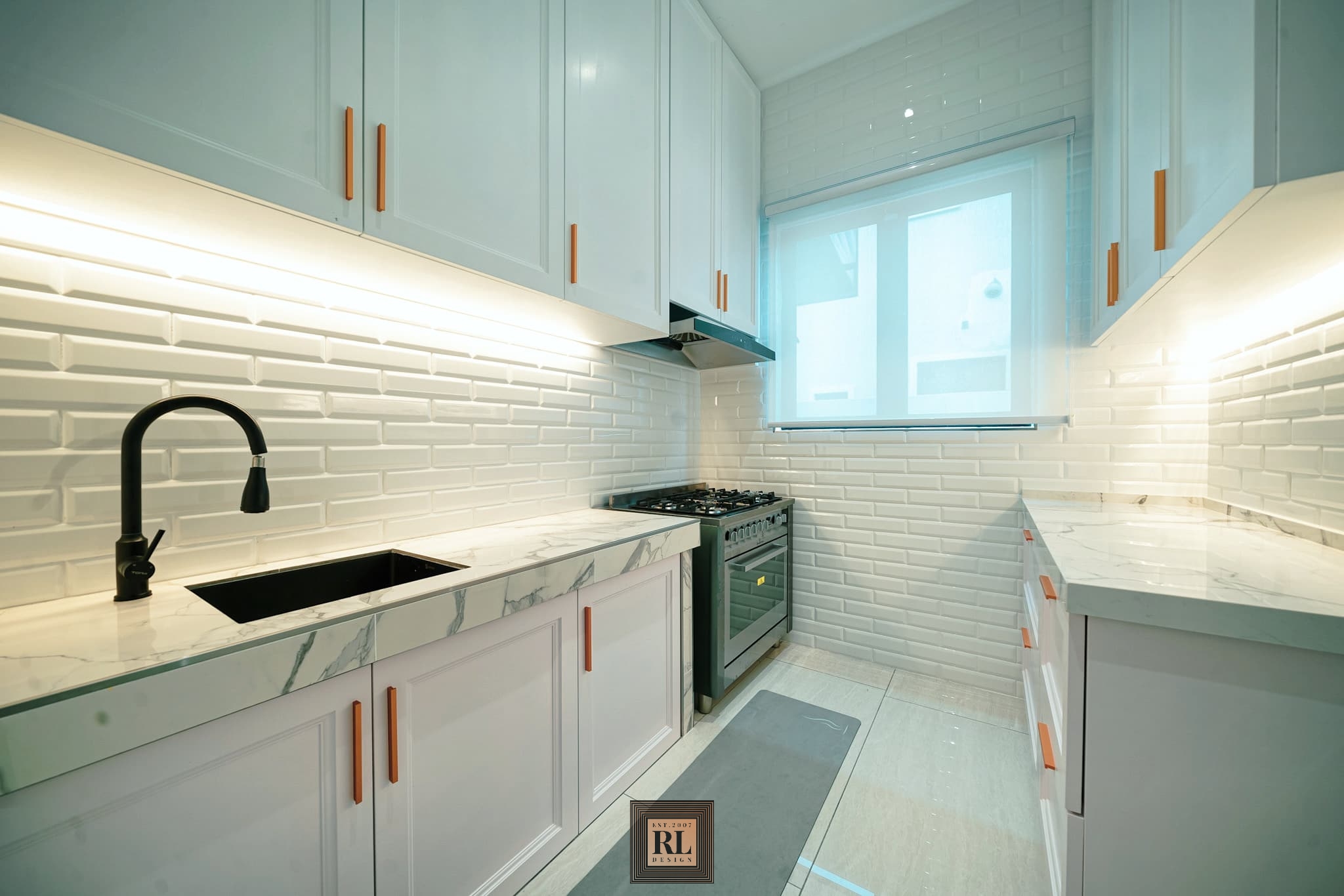 Meanwhile smaller wet kitchen differentiated with pastel pink base cabinet and Carrara marble top.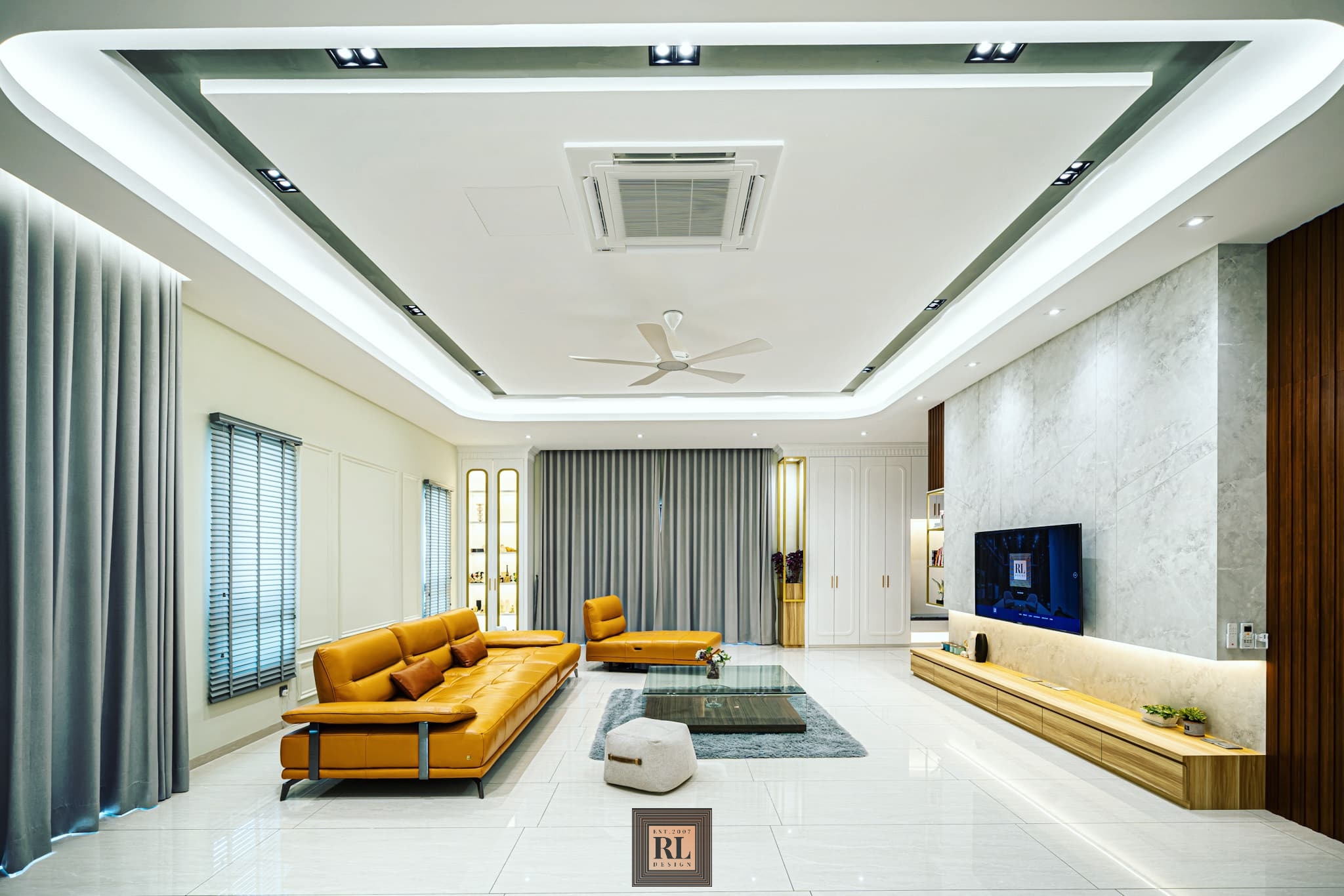 The living area inputting spacious and simple but striking statement pieces in neutral bright tones.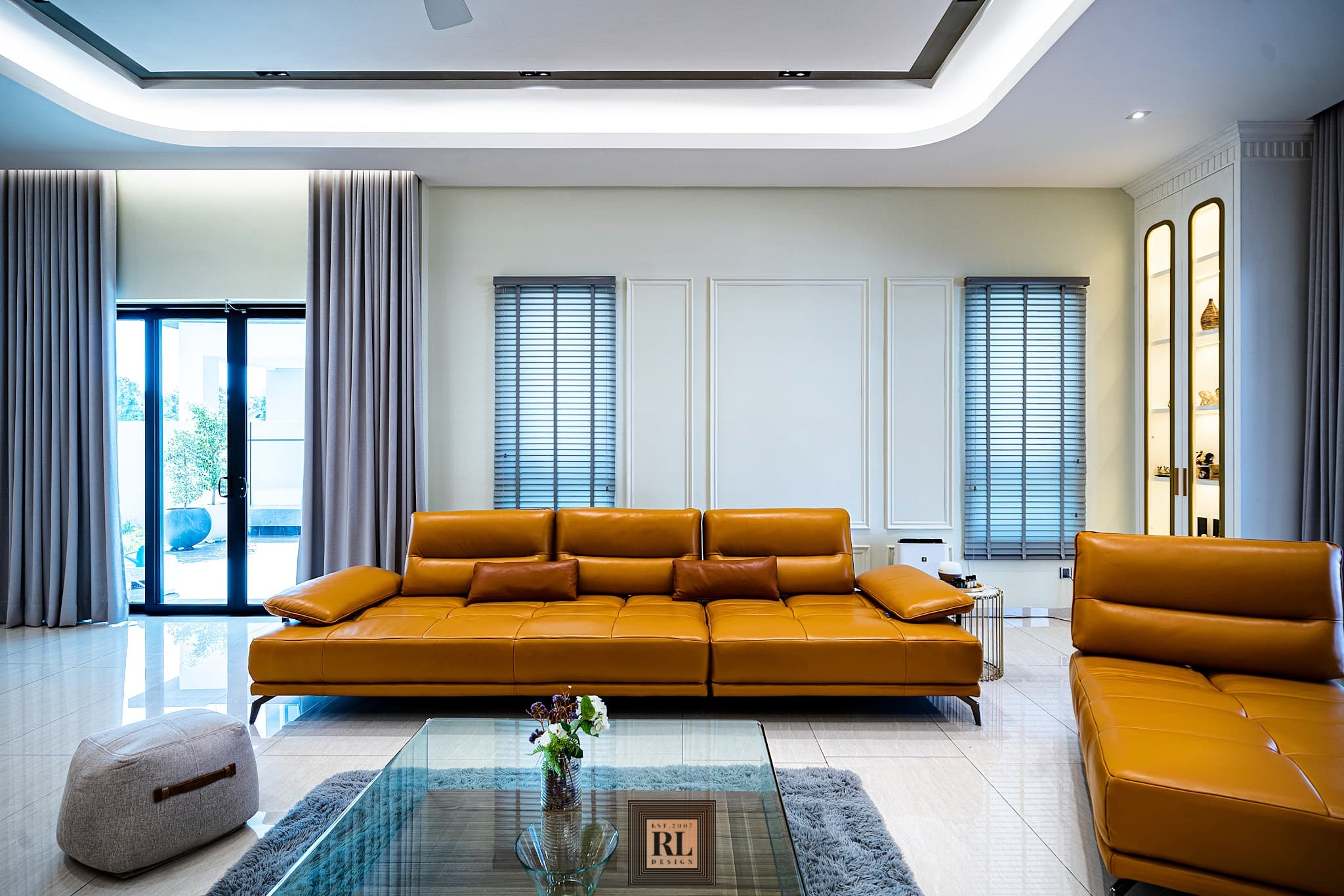 Client's favorite colors range from white, to the brass of highlights, warm leather and woody elements can be seen throughout the living space.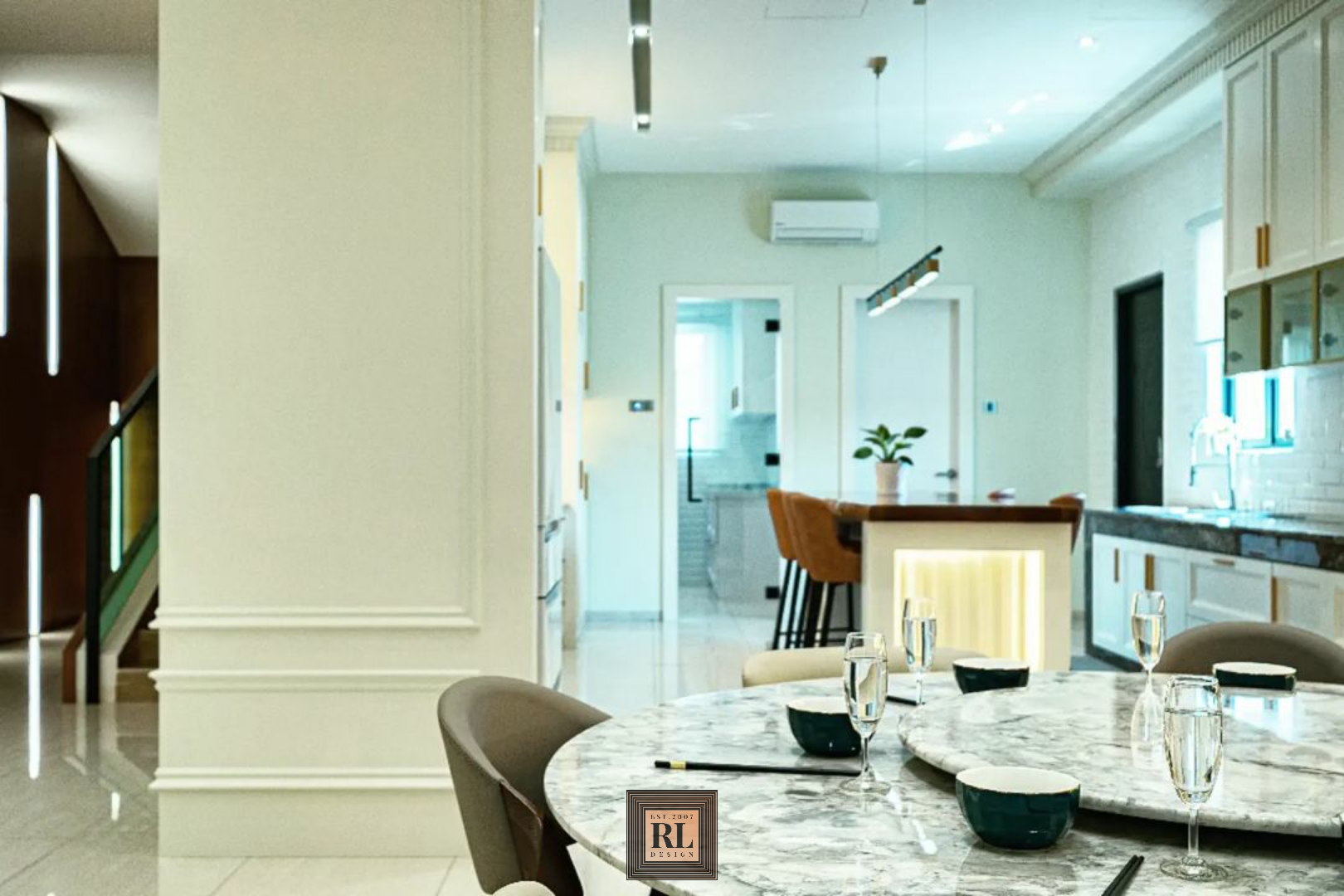 Extra large circular dining table flatters by using marble material giving the eating area a glamorous feel. Plus with open towards dry kitchen, the homeowner use it as a proper place to dine with family and entertain guest.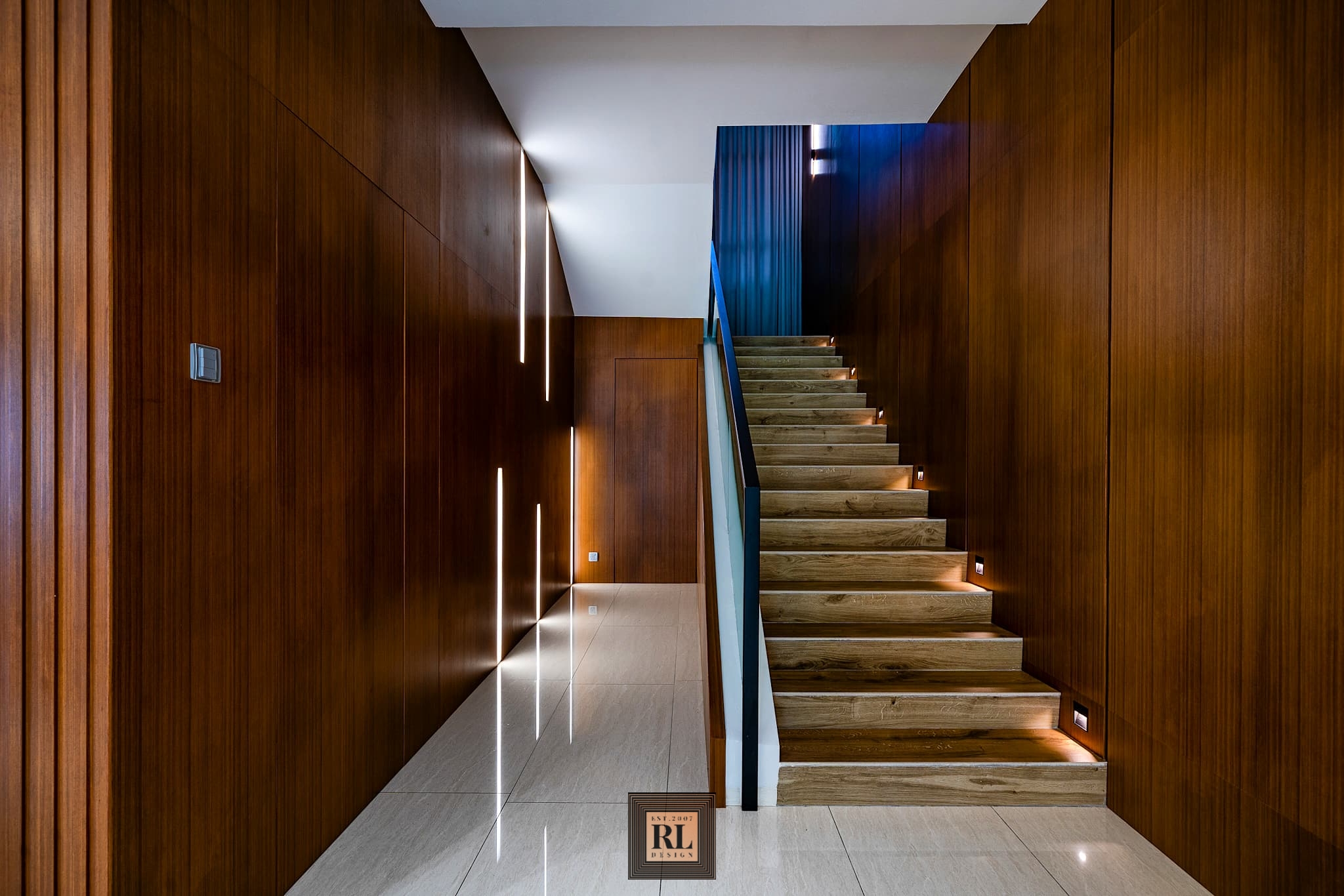 Teak veneer paneling covering from ground floor side staircase wall (with hidden access door to guest bedroom and store underneath the staircase) all the way up to first floor side wall expensively distinguish the value of tasteful design.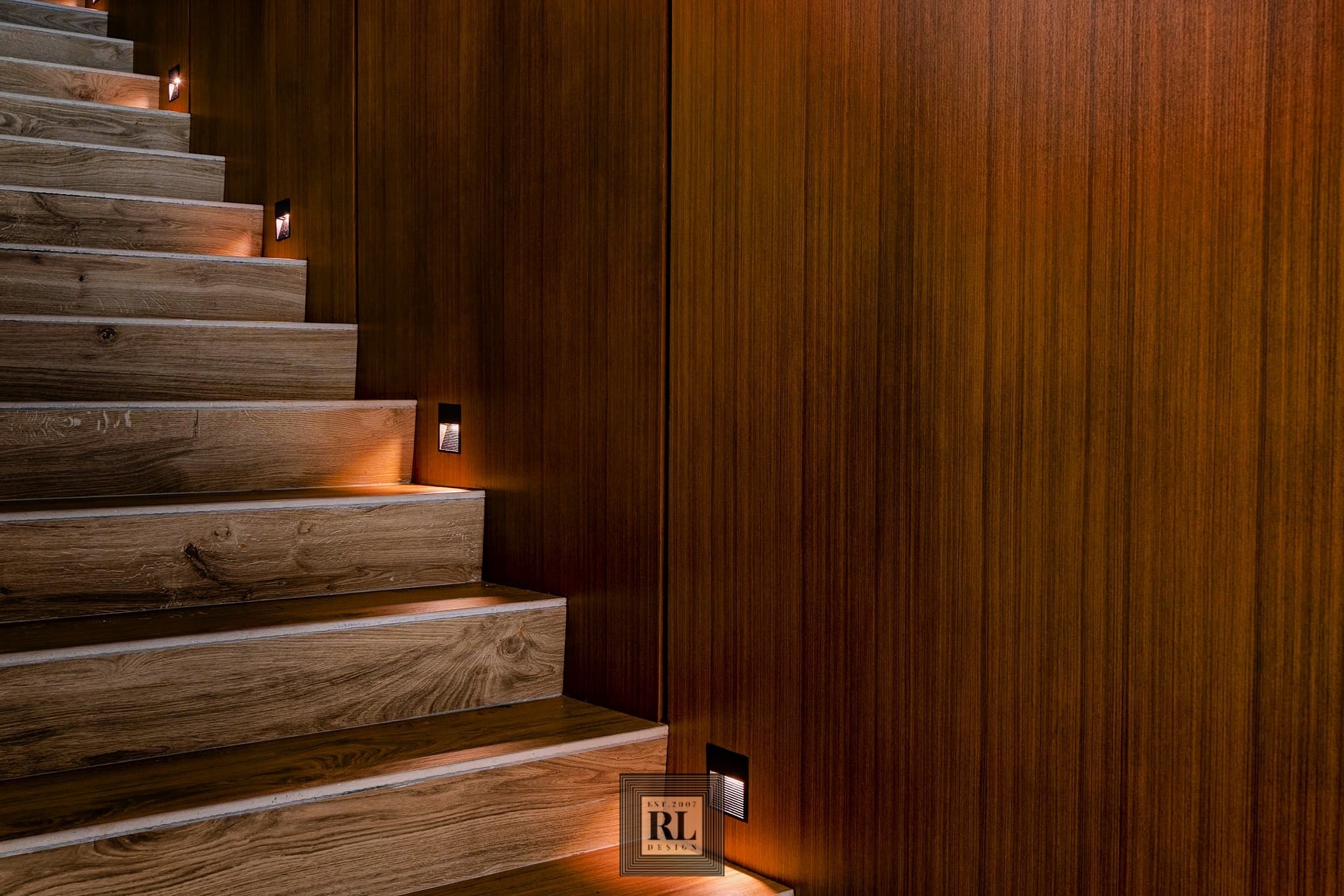 Concealed staircase steps lighting to enhance the visual.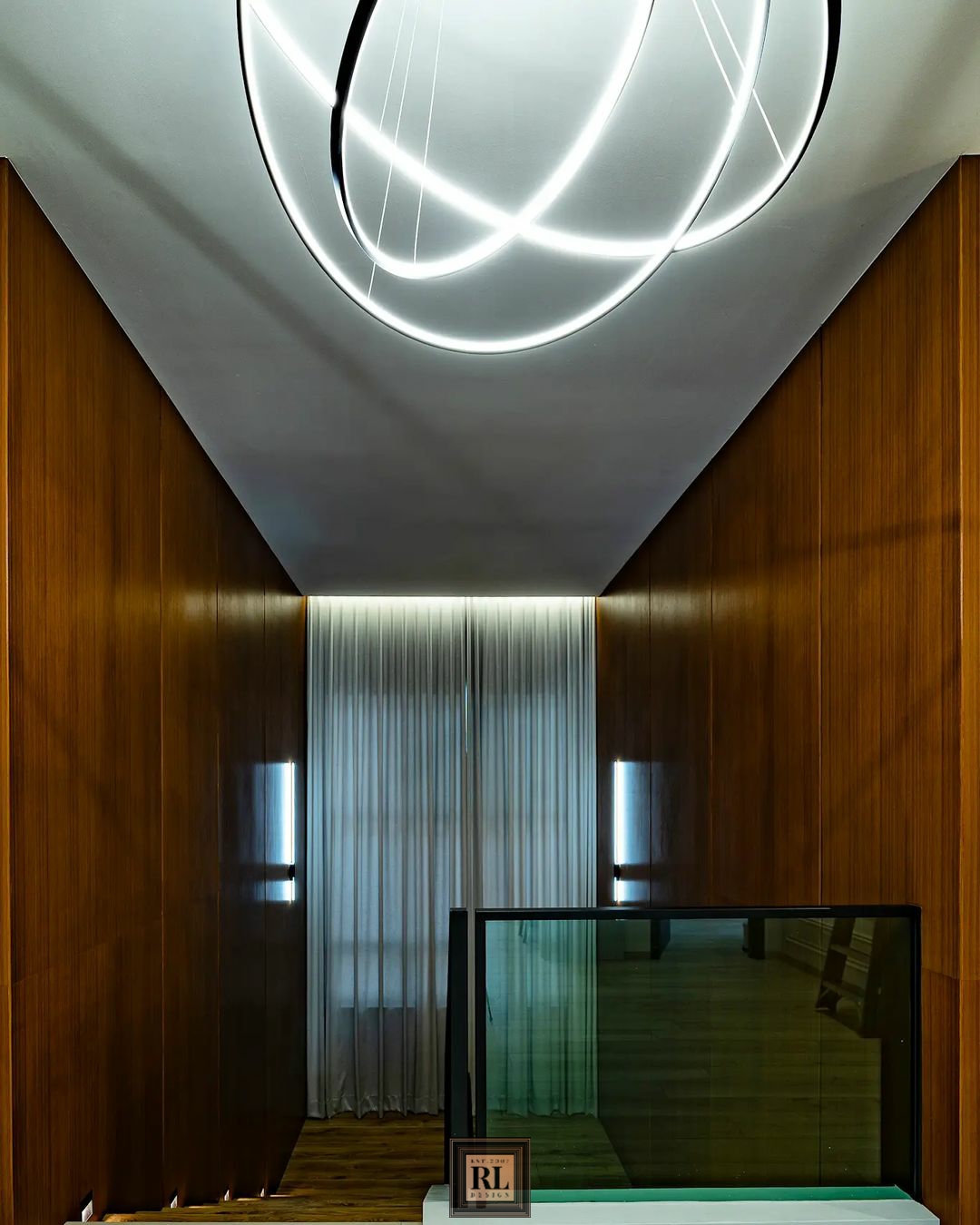 Solid plywood walls with dark teak veneer finished recall the unpretentious beauty of Red Land Design creation.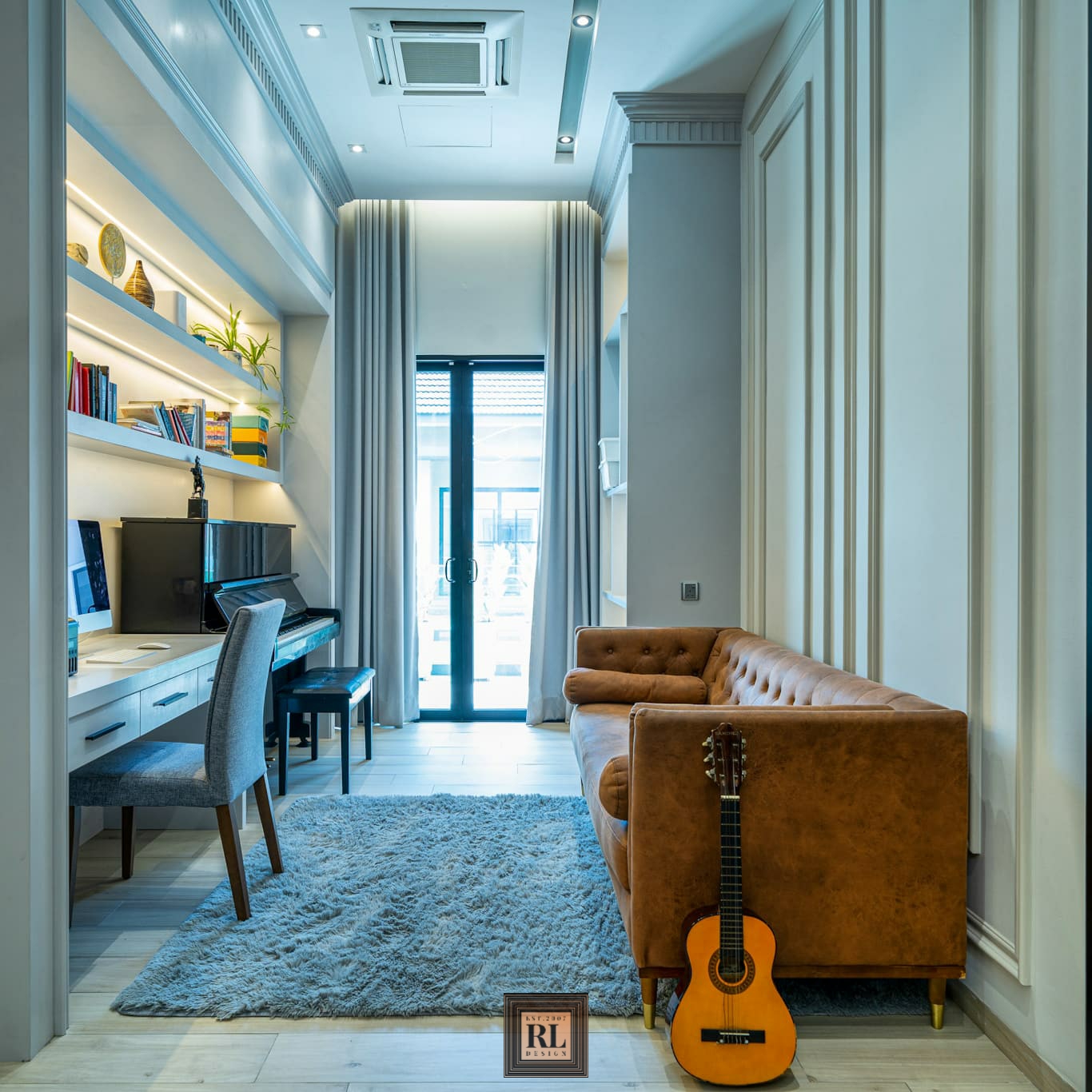 On the first floor of family area, we had some amazing features to work with that provides timelessness and character.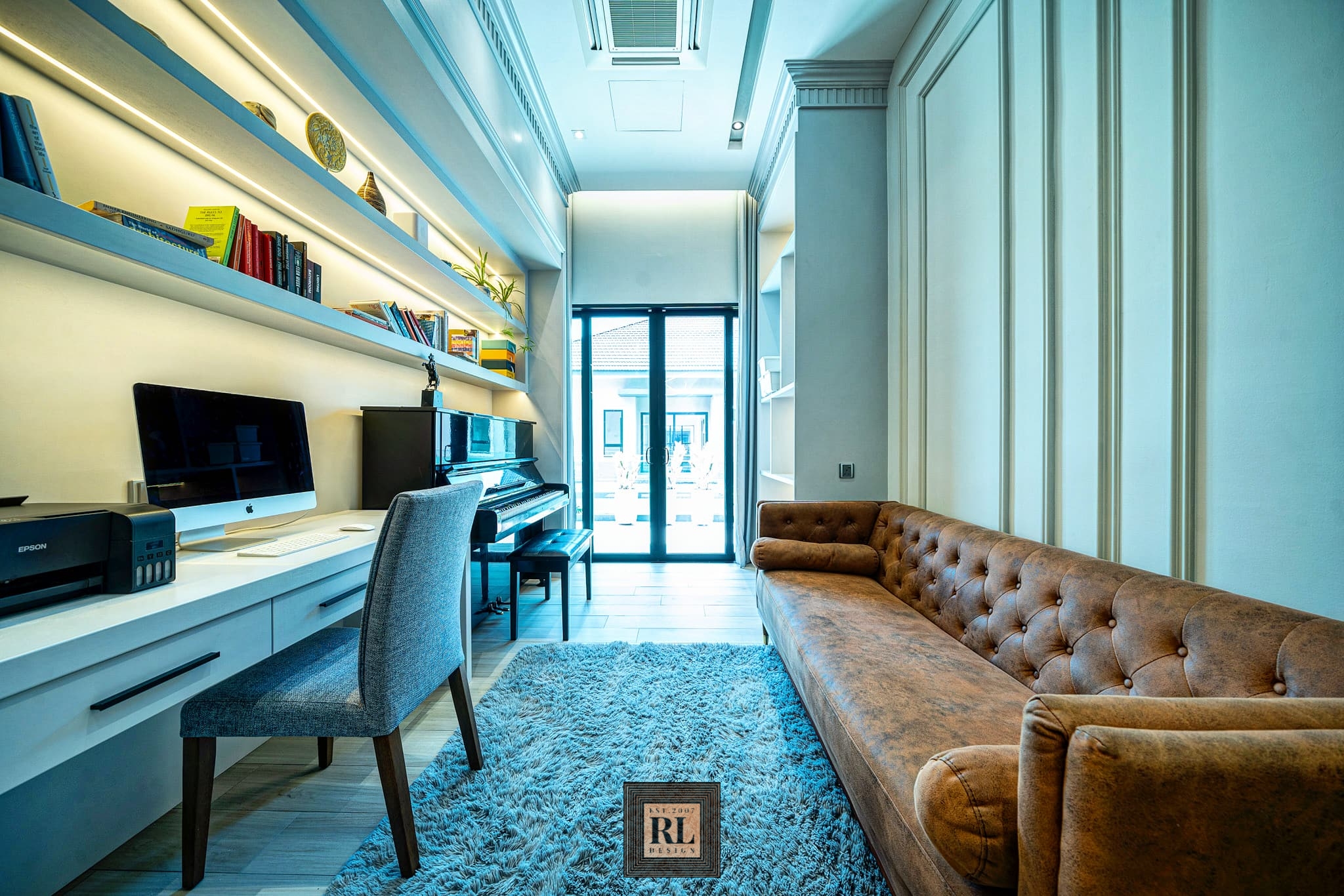 Detail like customization wood detail, wainscoting, mirror black console piano and vintage brown leather sofa envisioned an enduring house interior.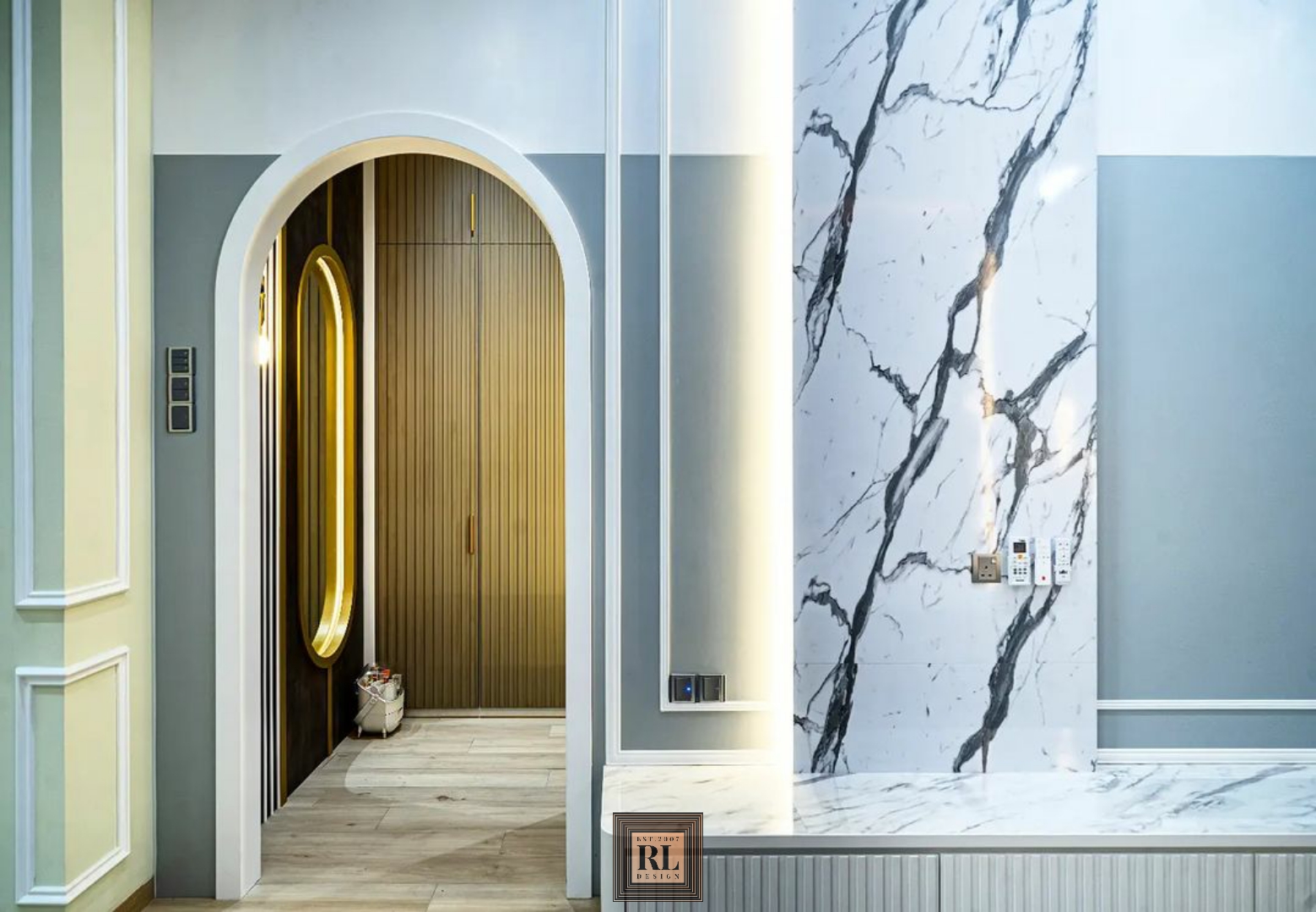 Dividing bed space and walk in closet was this artistically lushly panel which one of the owner's most satisfied design as he enthuses, "That marble texture laminate, wood lining and well selected color combination allows the fascination feeling every time I walked into my master bedroom".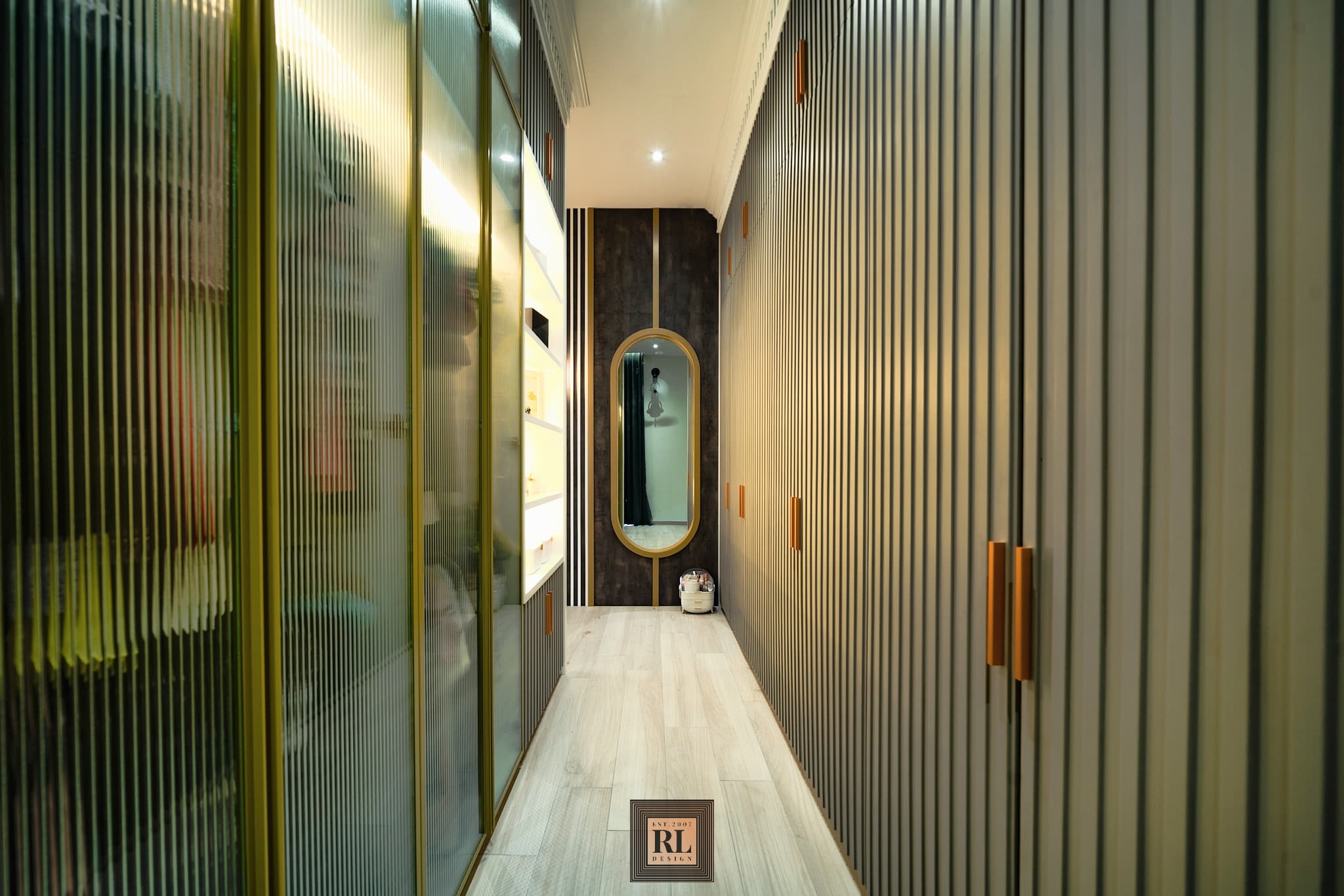 Each project by Red Land Design is one of its kind, personalization is the purpose of customization. Take this walk in closet for instance, it feels like another artful place. This although experimental, the design result was not overdone and definitely will looks great for another 10 years at least.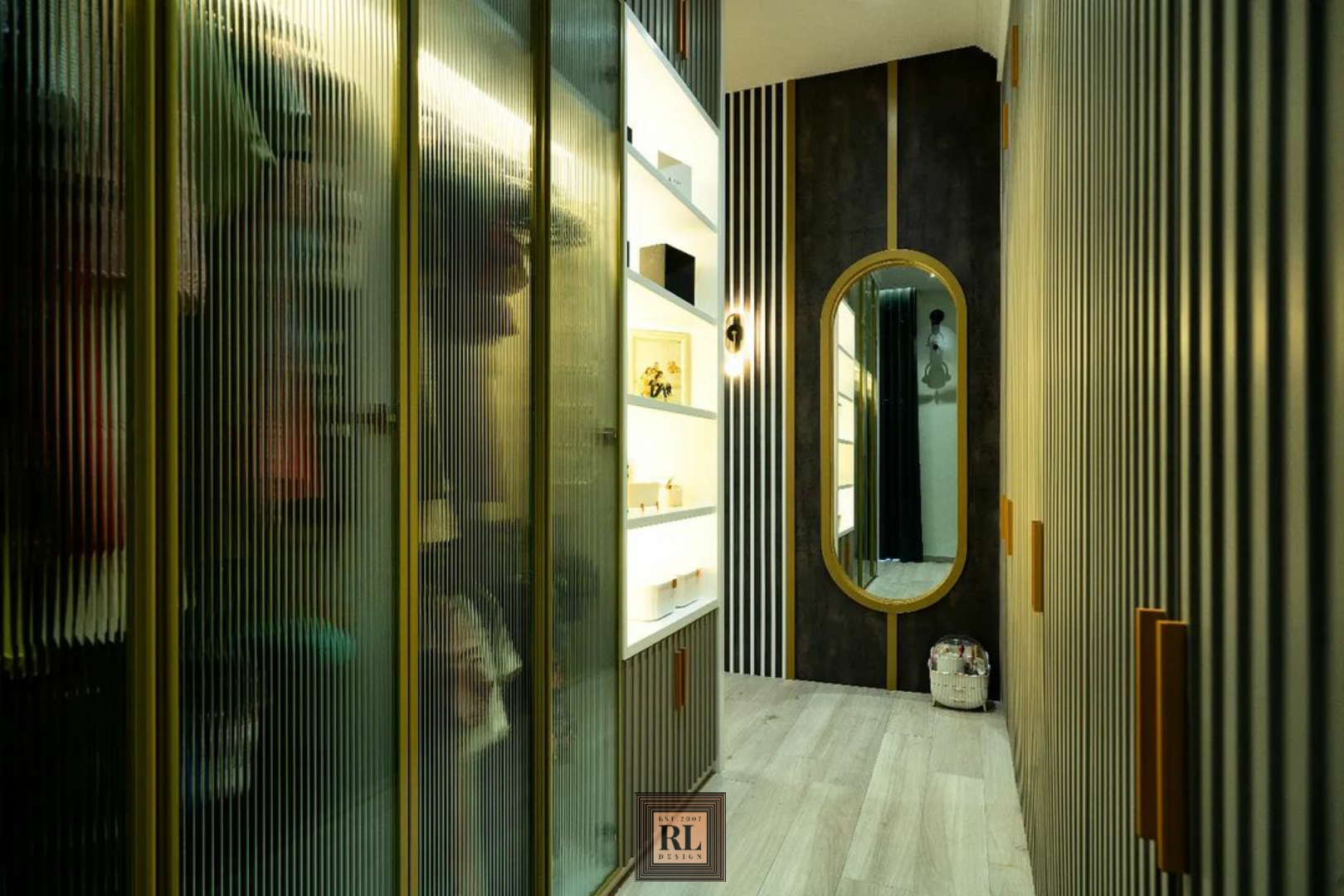 Combination flute glass and wood strip wardrobe door patterns creating a great symmetrical between two different materials is another great design idea.
As the client prefer the bed not to be seen once stepping in his master bedroom, we create a classy flute glass divider and custom made cabinet console with gold color accent for luxurious accentuate.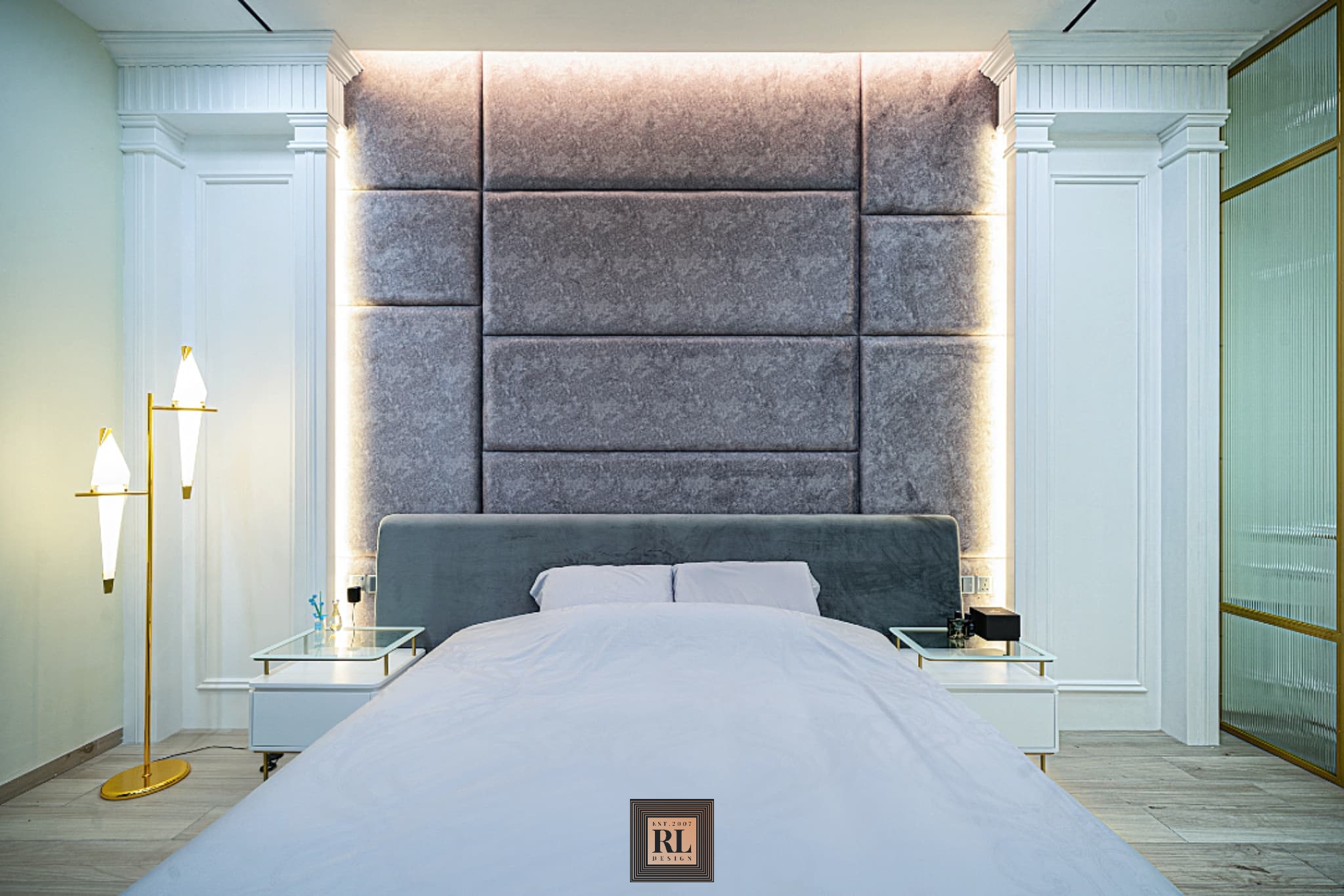 As the primary bedroom, bed panel created in such idiosyncratic European wood design with modern touch. Both bed panels in velvet fabric finishes which is owner personal favorite choice.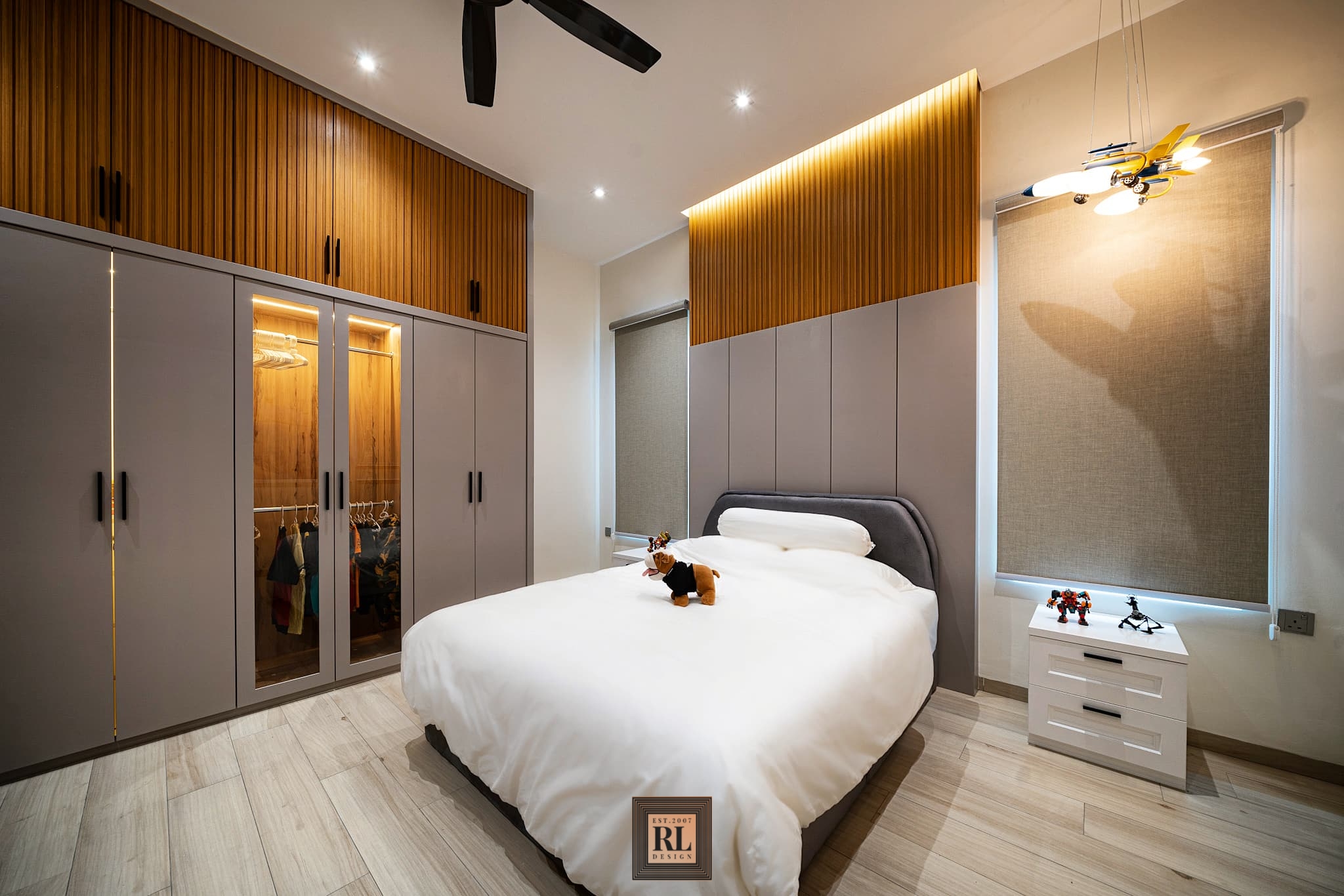 On one of the children bedrooms, we dividing 2 sections element for top bottom design and color with different but contrasted well for bed panel and side wardrobe.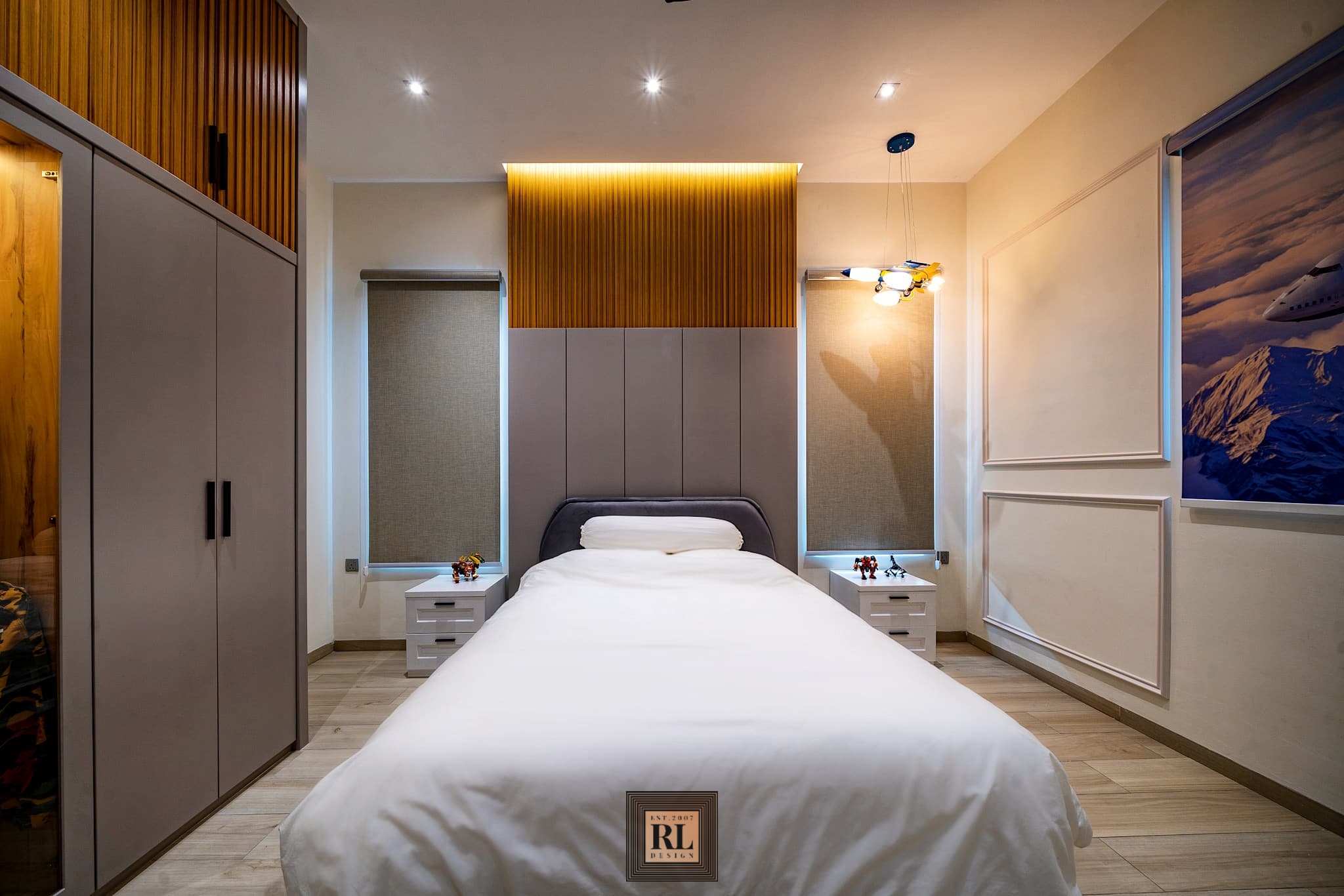 We insist applying real wood on any wood strip design instead of plastic which started to trend in the market due to lower cost, as we able to recast the color tone, with authentic texture. The result unquestionably distinctive than fake woods.
This kids bedroom was another best-loved creation of their new home interior. As the son is in the process of adolescent, we putting youth, elegance and strong design into it.