We revisit this small apartment project for another photo session as part of participation in the upcoming interior design award competition.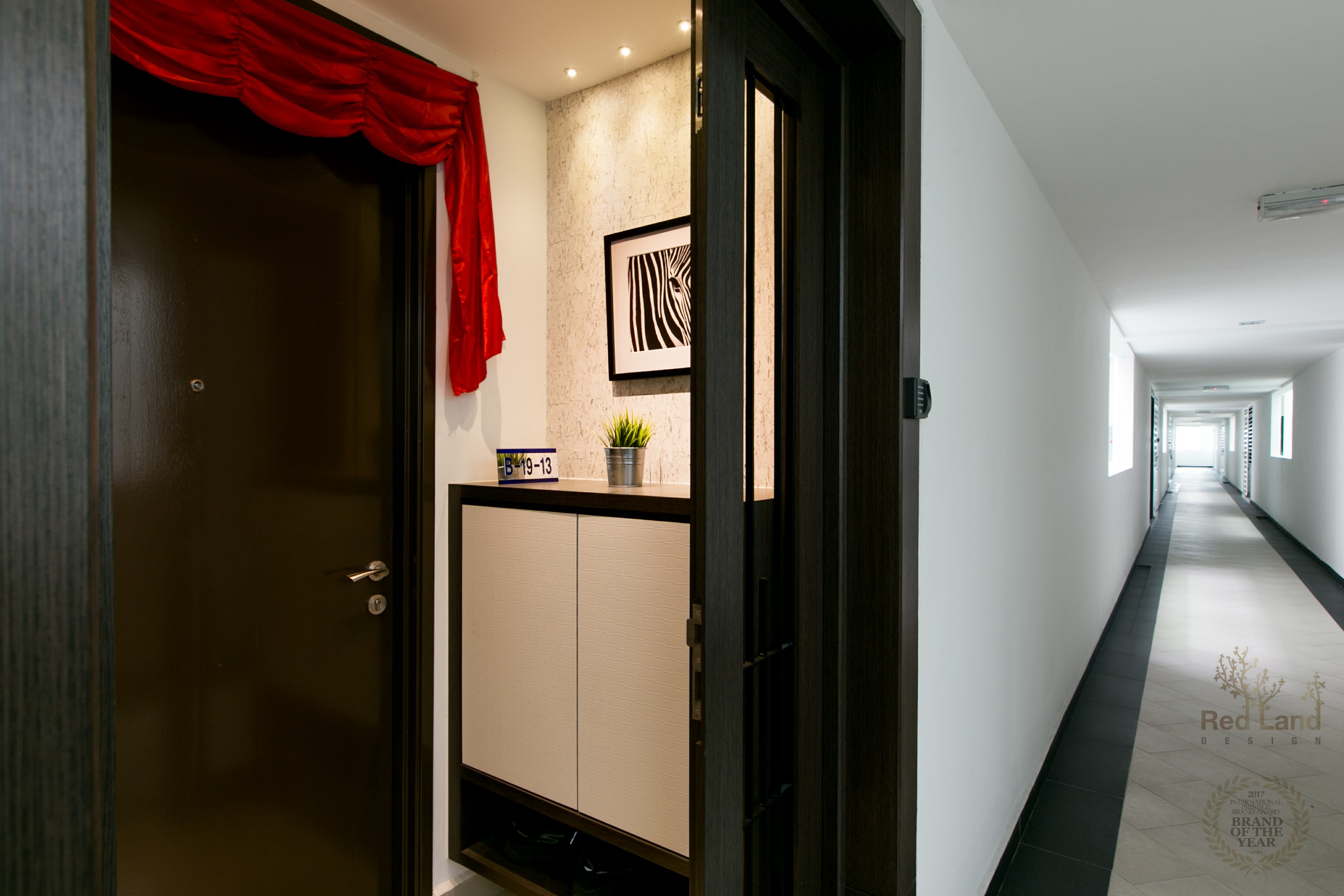 It is a tradition for Chinese to hang a red cloth at main entrance during newly move in, believing it would bring luck and a positive chi into the property.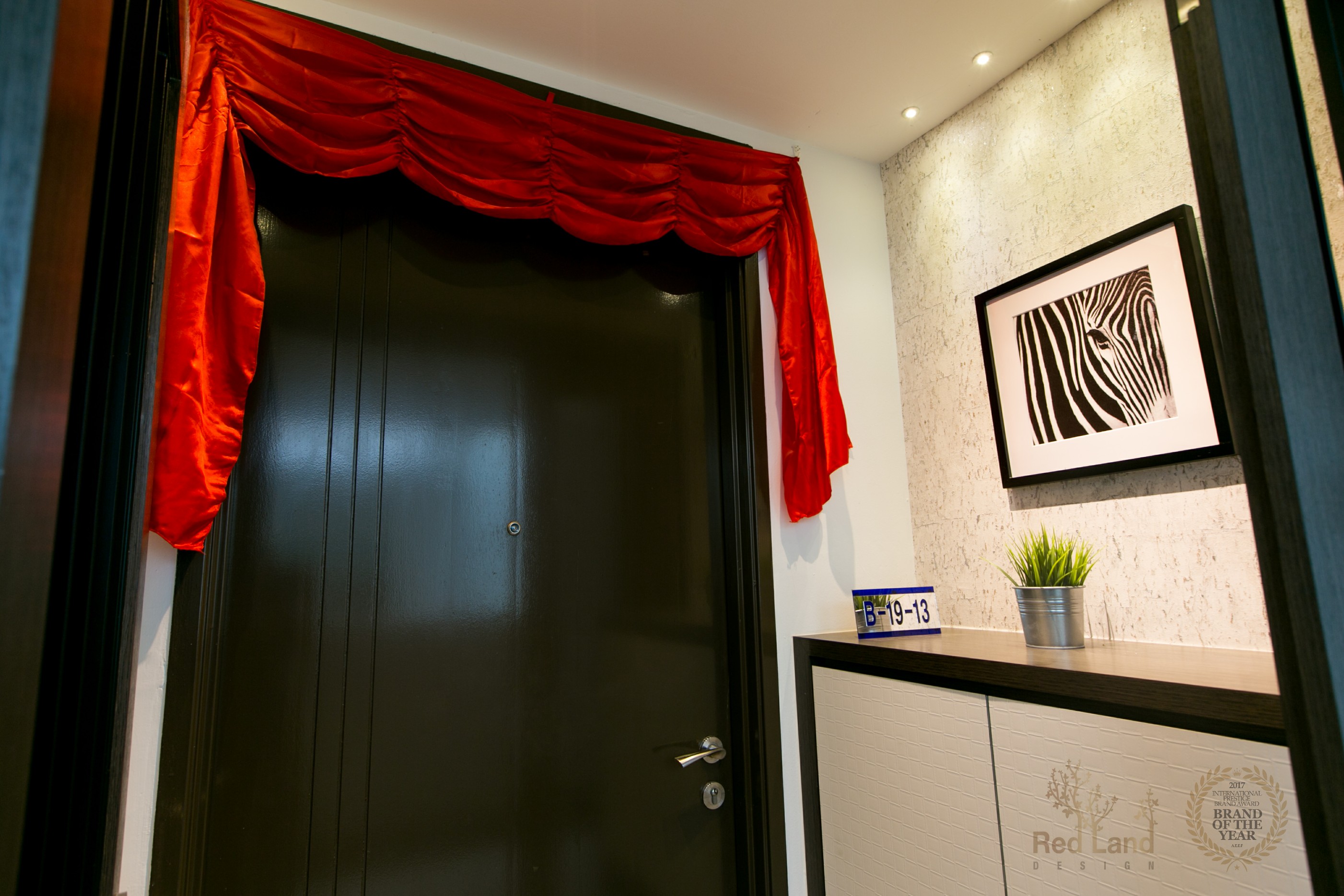 A wall mounted cabinet for shoes and utilities storage made of multi layer wood from Maica, Arizona Walnut, code M 00495-X on top and edge structure, cabinet door applies laminate from Wilsonart, Transition, code 0120-CR.
Feature wall highlighted with cork, an impermeable, buoyant material,  prime subset of bark tissue which harvested from Cork Oak.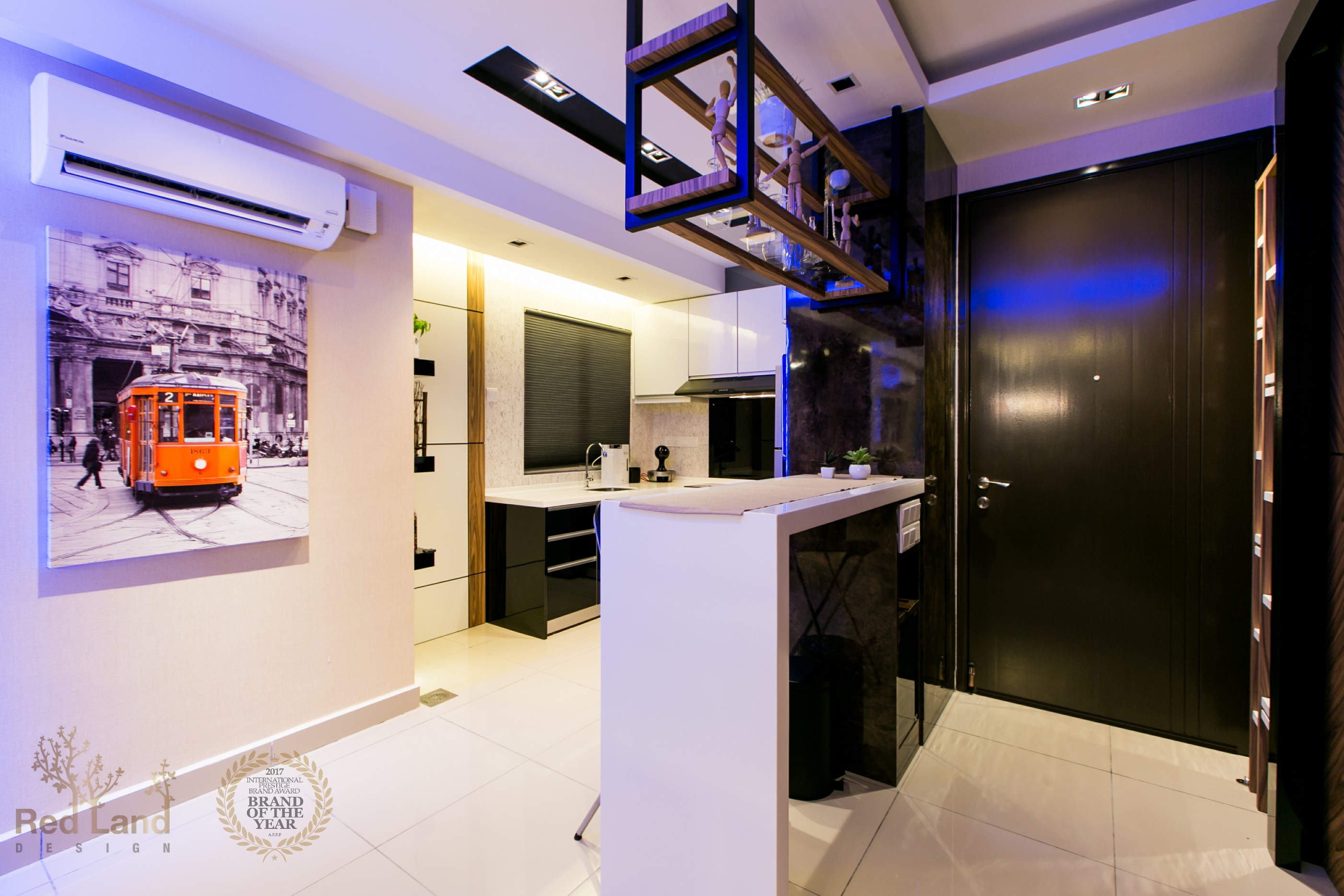 As entering the unit, there is a wine counter table top made of acrylic solid surface from LG Hausys, Artic White. Panel besides the counter is an oven and microwave fitting with win storage unit made of multi layer wood with 0.8mm thick laminate finishing from FORMICA, Marbled Cappuccino.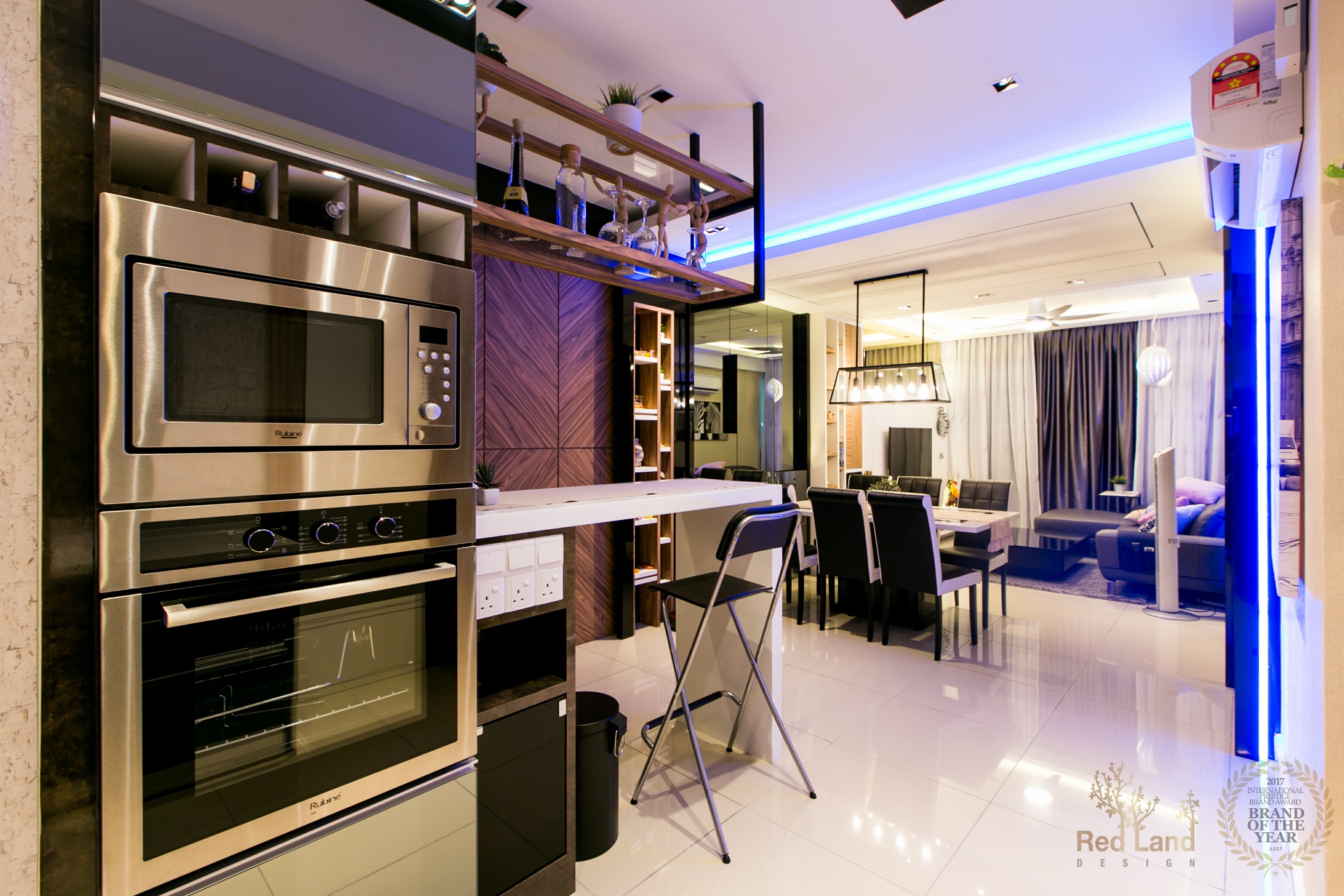 Ceiling mounted open display unit structure made of mild steel with powder coated finishing. Meanwhile the wood shelving in laminated finishing sourced from iTOP, Cherry Mix.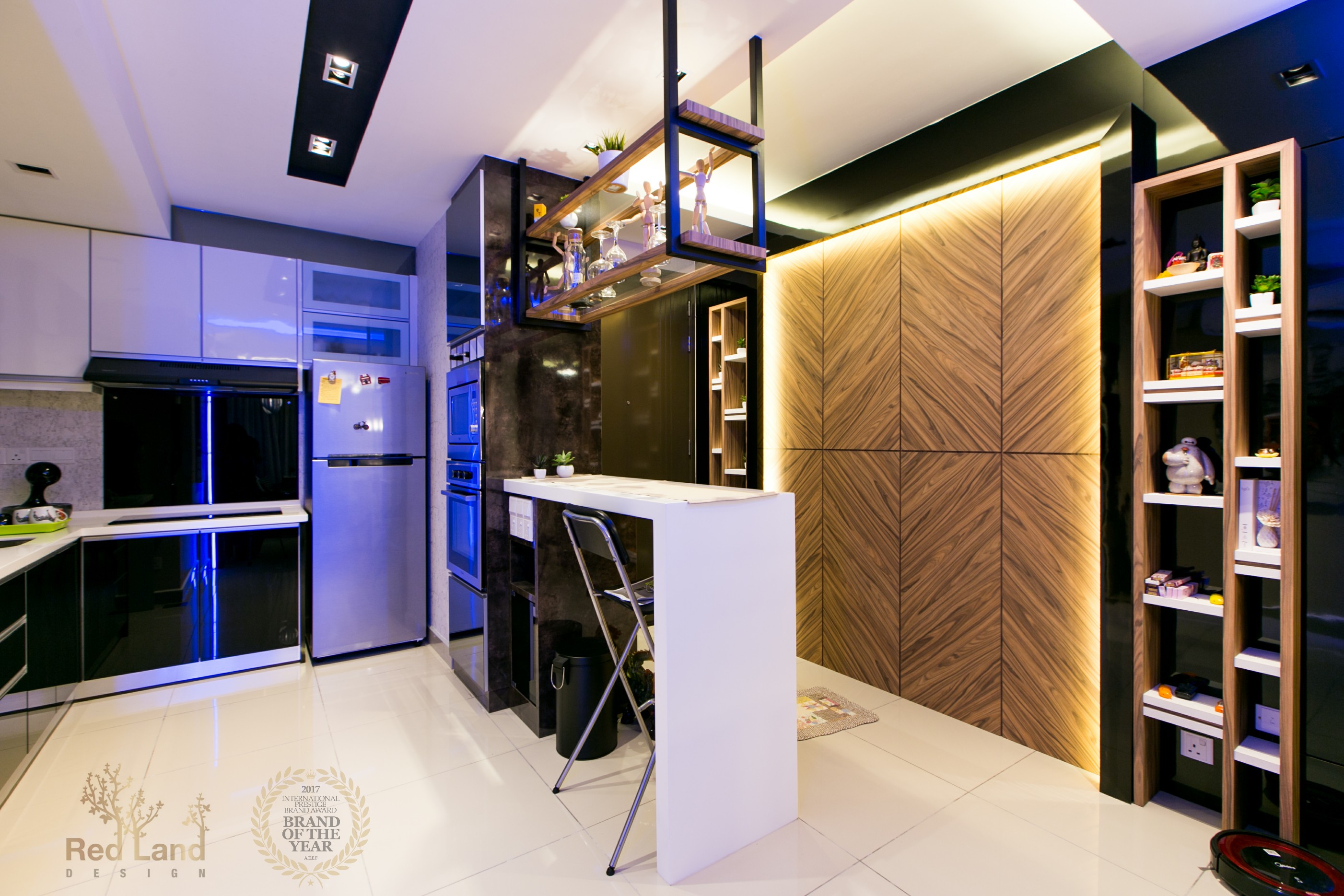 On one side wall towards dining and living area, we created a feature panel using the same laminate finishing as the open display shelves above the counter top, iTOP, Cherry Mix, code W 6627 in 45 degree layout and High Gloss (HG) laminate from FORMICA at the arch around it. This also featuring both side display section made of multi-layer wood with white color paint coat and gray color mirror backdrop.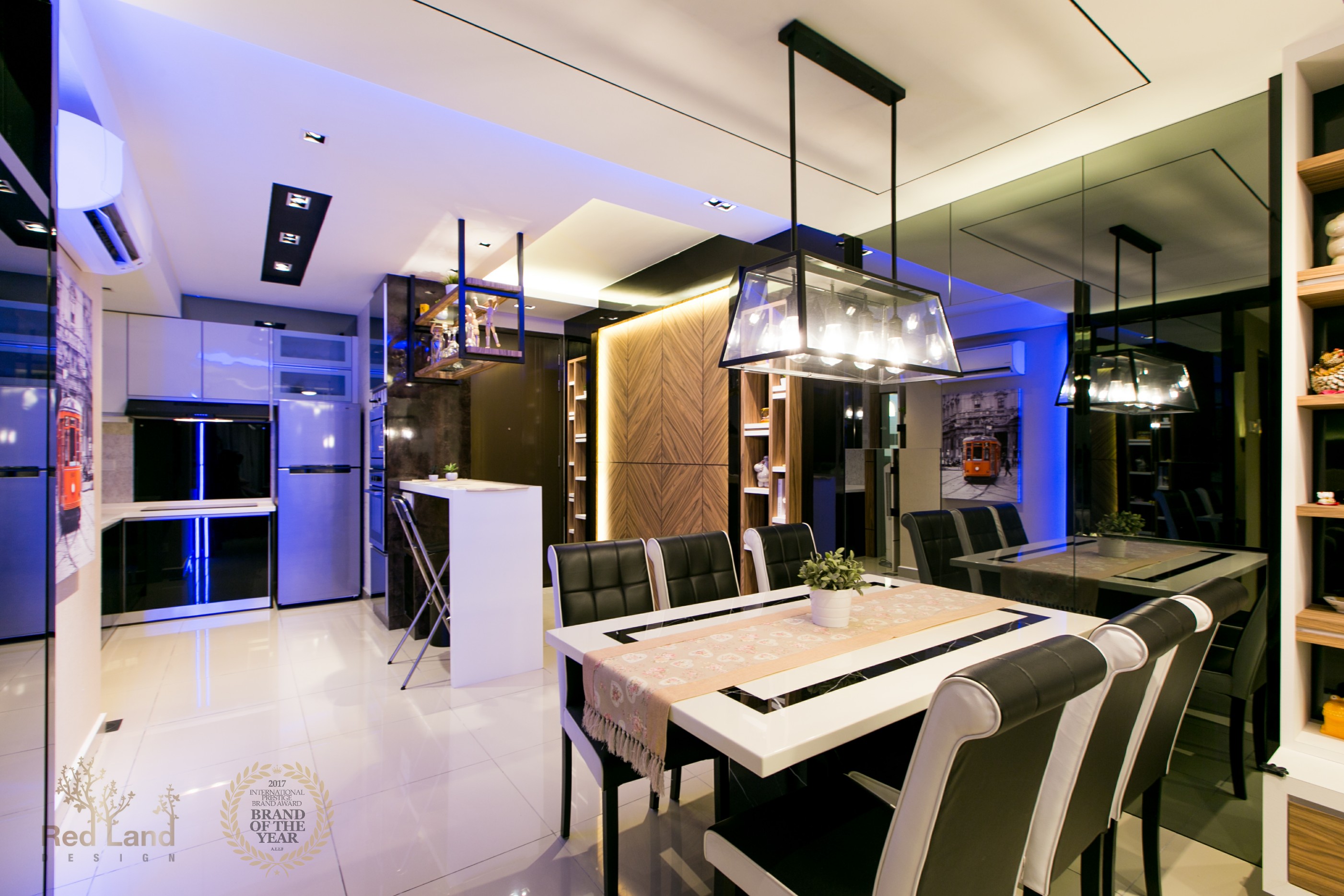 Feature panel continues at dining area whereby we applying full height gray mirror to enhance the small interior space.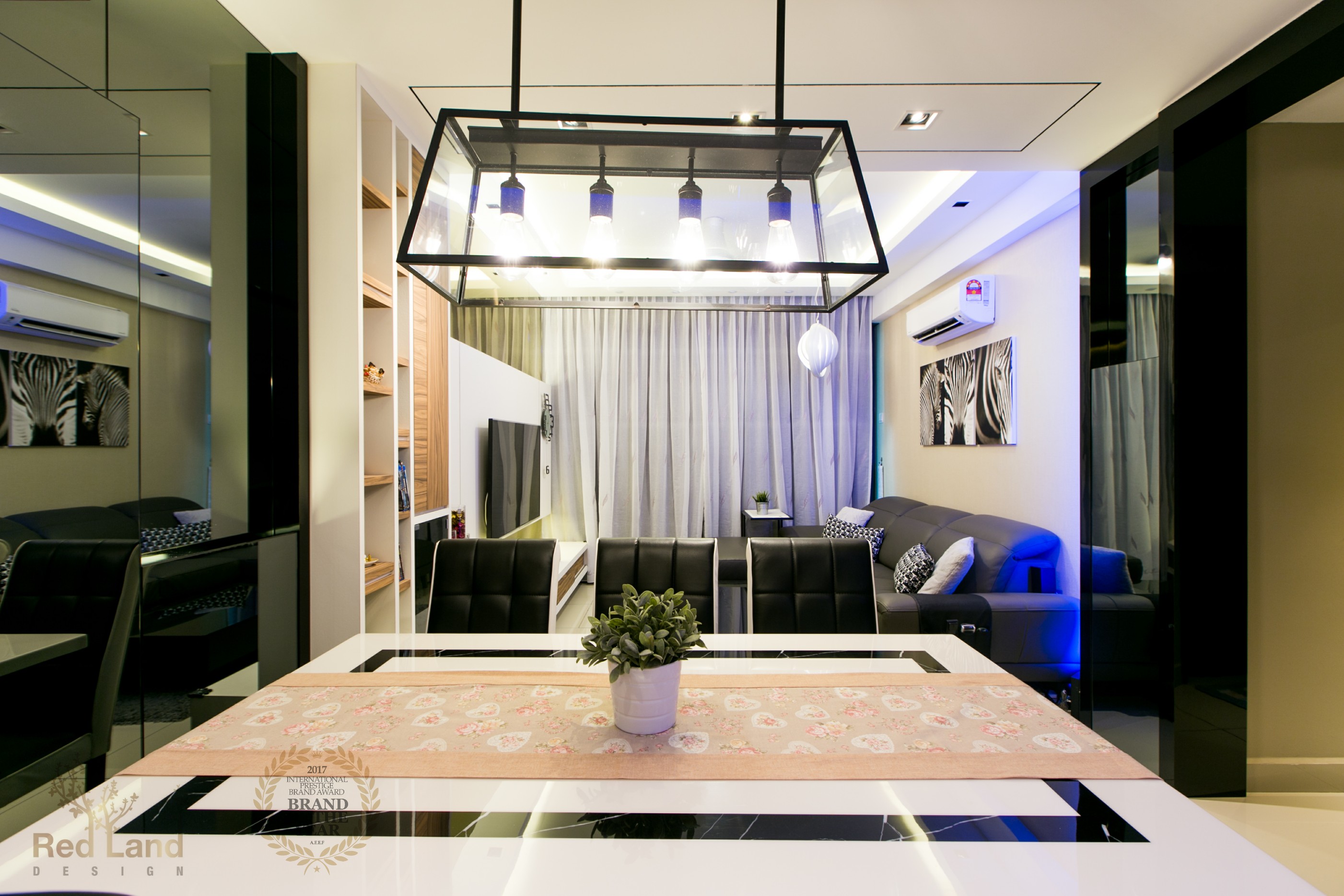 Marble dining table with PU leather chair set in minor black and white to contrast here.
On the opposite side of the feature full height gray mirror at dining area wall was a panel featuring same material with glossy black laminate frame border.
Client would like to add some sexy ambiance in his unit, with blue color hidden LED tube lights here and the ceiling box up successfully bring such feeling in result.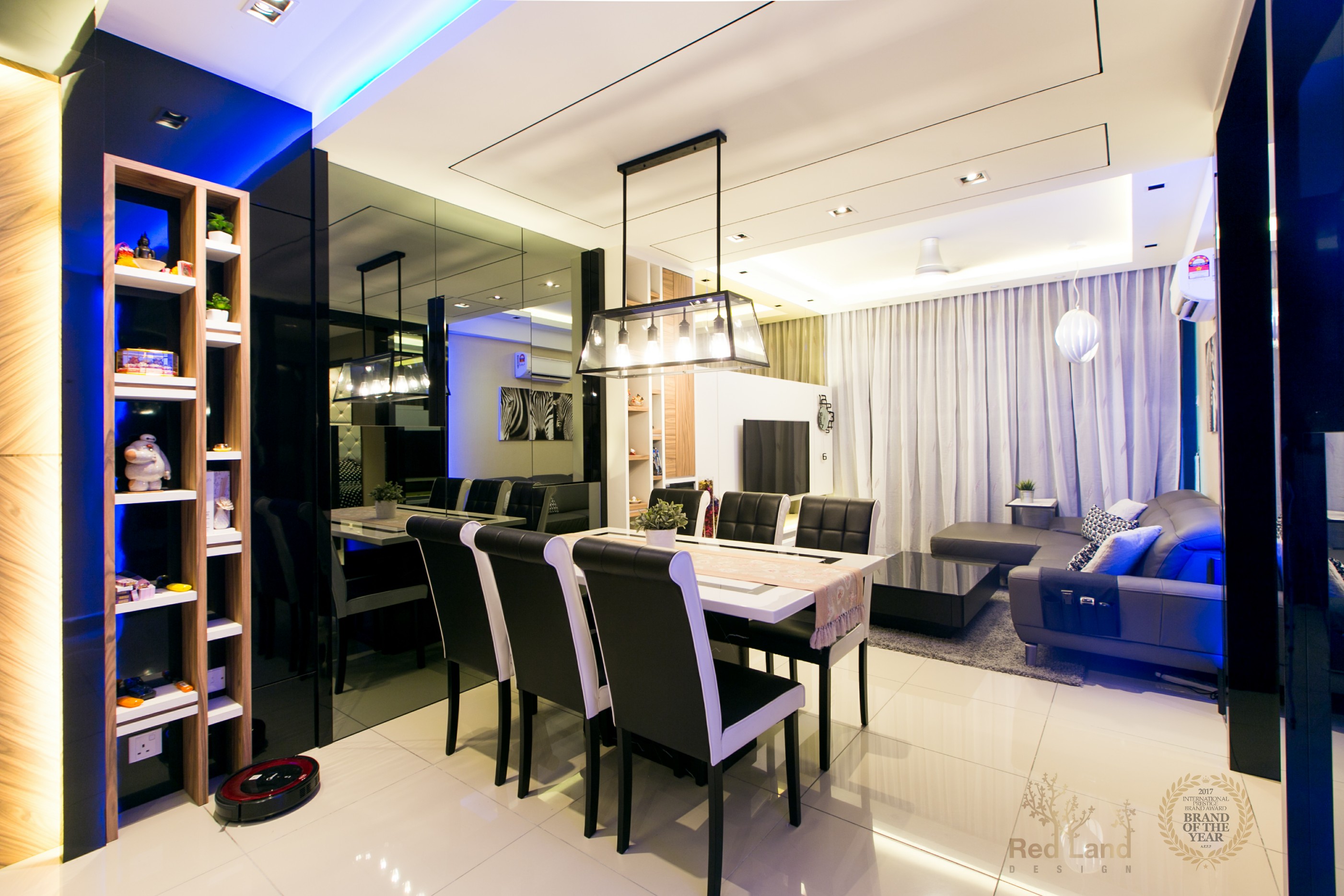 Throughout the entire interior, we put effort on the ceiling design as well to create distinct result from standard unit and suits with the design flows. Lining and box up ceiling highlighted with black color paint.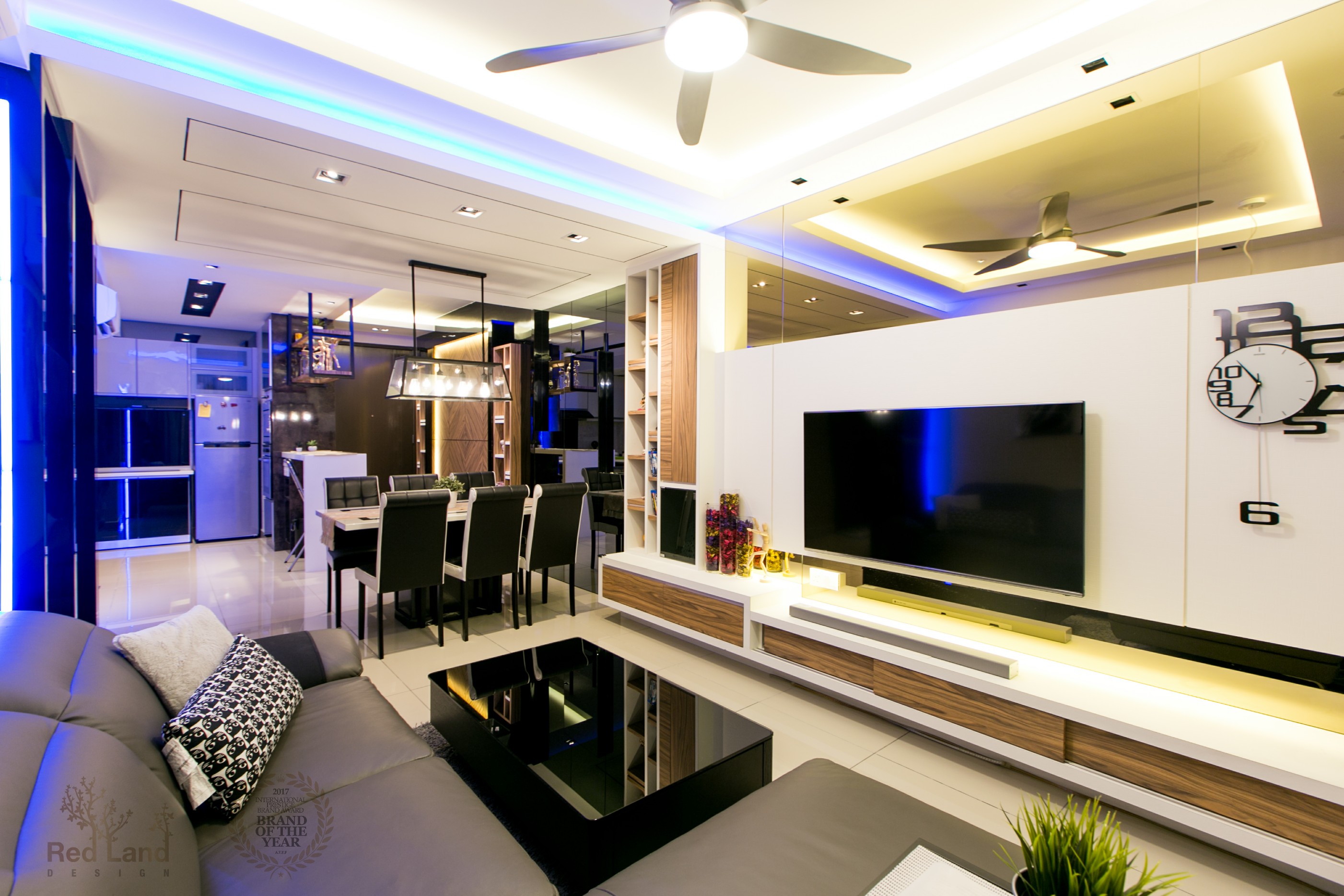 TV panel made of multi layer wood with nyatoh ply layer in white paint coat on the panel and cabinet top, laminate finishing from FORMICA.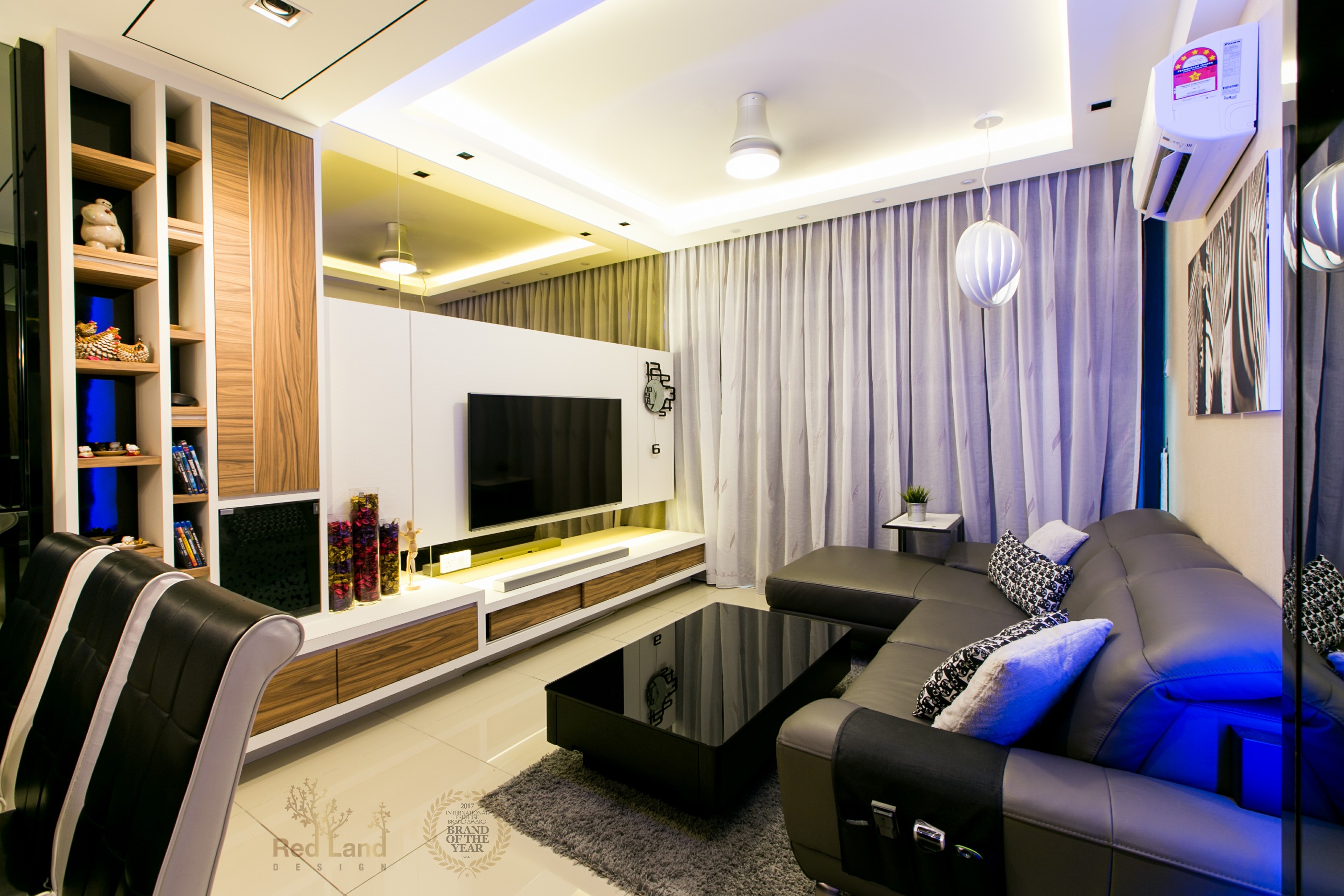 Bronze color mirror applies on top and bottom in between the TV panel.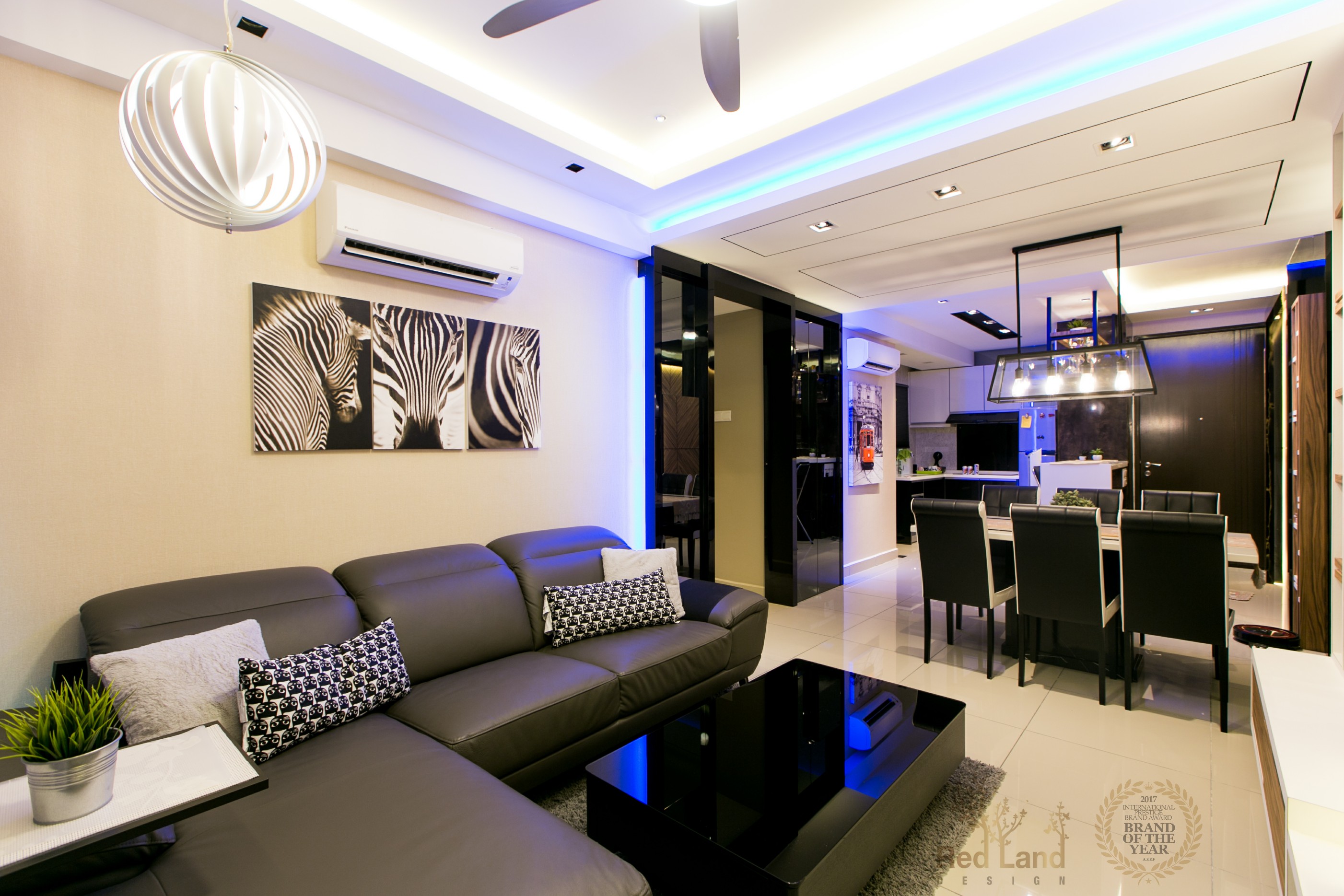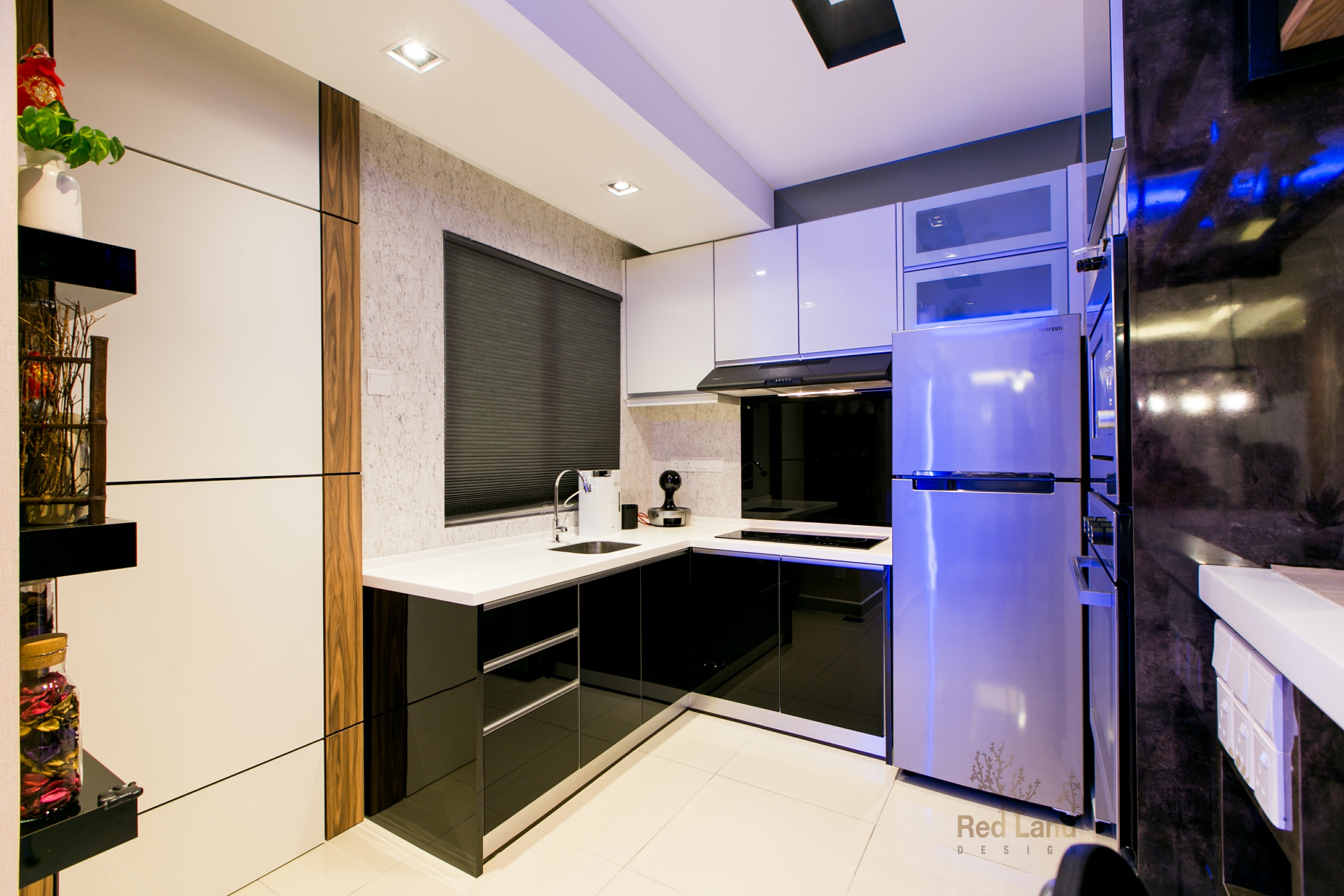 Dry kitchen section cabinet made of high quality MDF board with black mirror finishing on its base cabinet doors. Wall mounted cabinet doors made with similar material with white paint coated glass finishing with aluminium handles. Under-mount sink on an acrylic solid surface from LG Hausys, Artic White.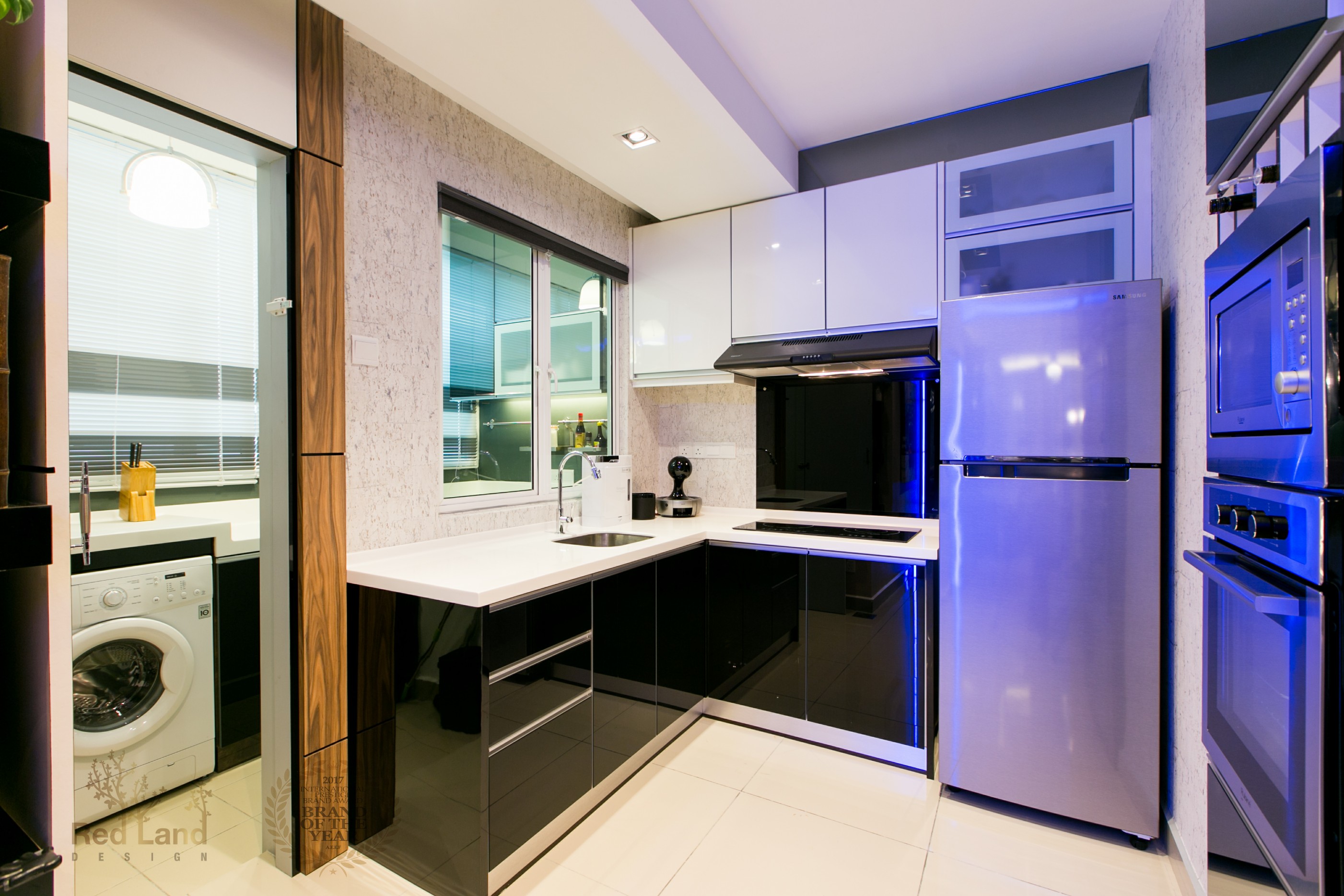 A hidden door panel access to laundry area and wet kitchen function as camouflage with dry kitchen side wall when it closed.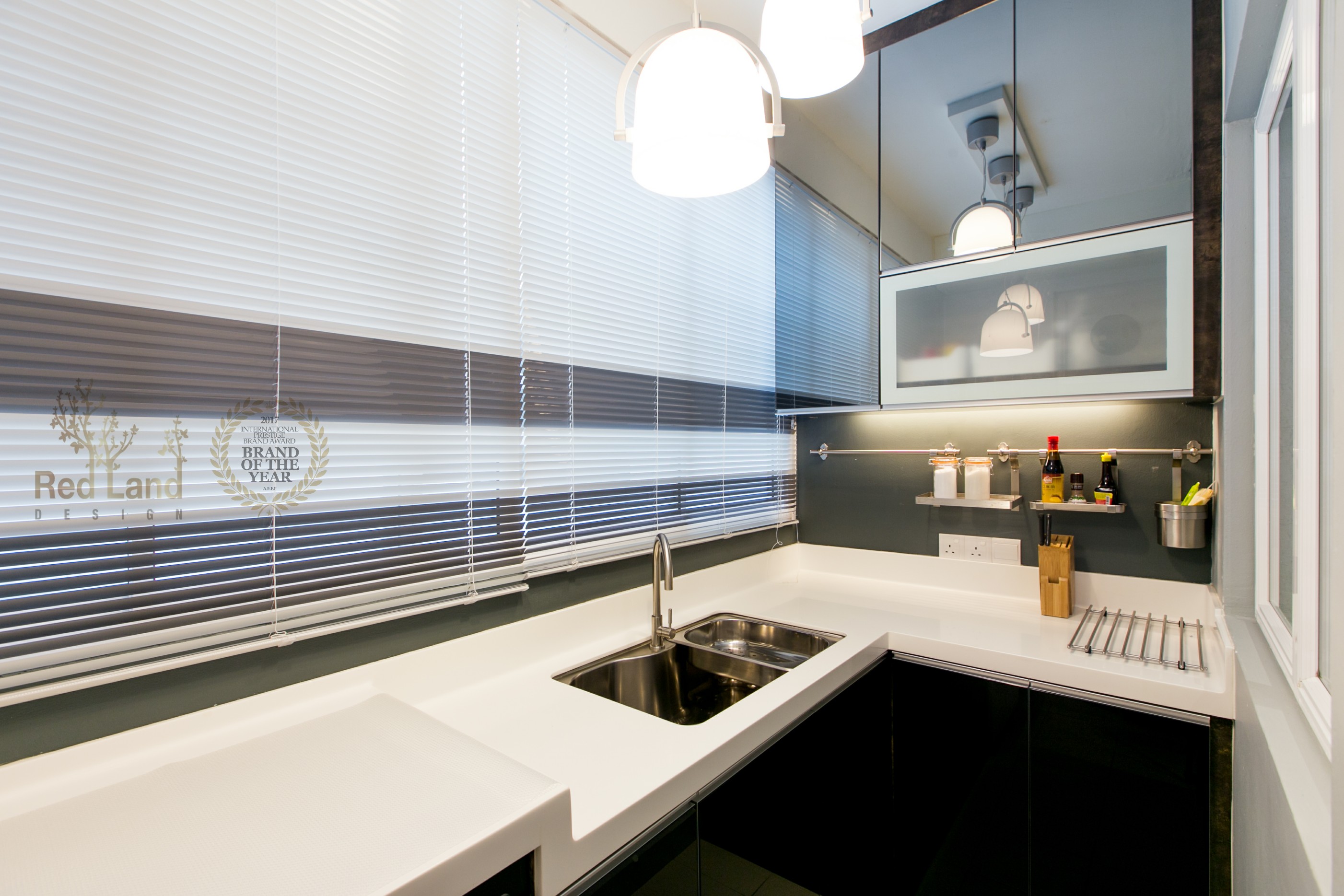 Originally here was an open area. We transform it into an indoor laundry and wet kitchen for heavy cooking purpose.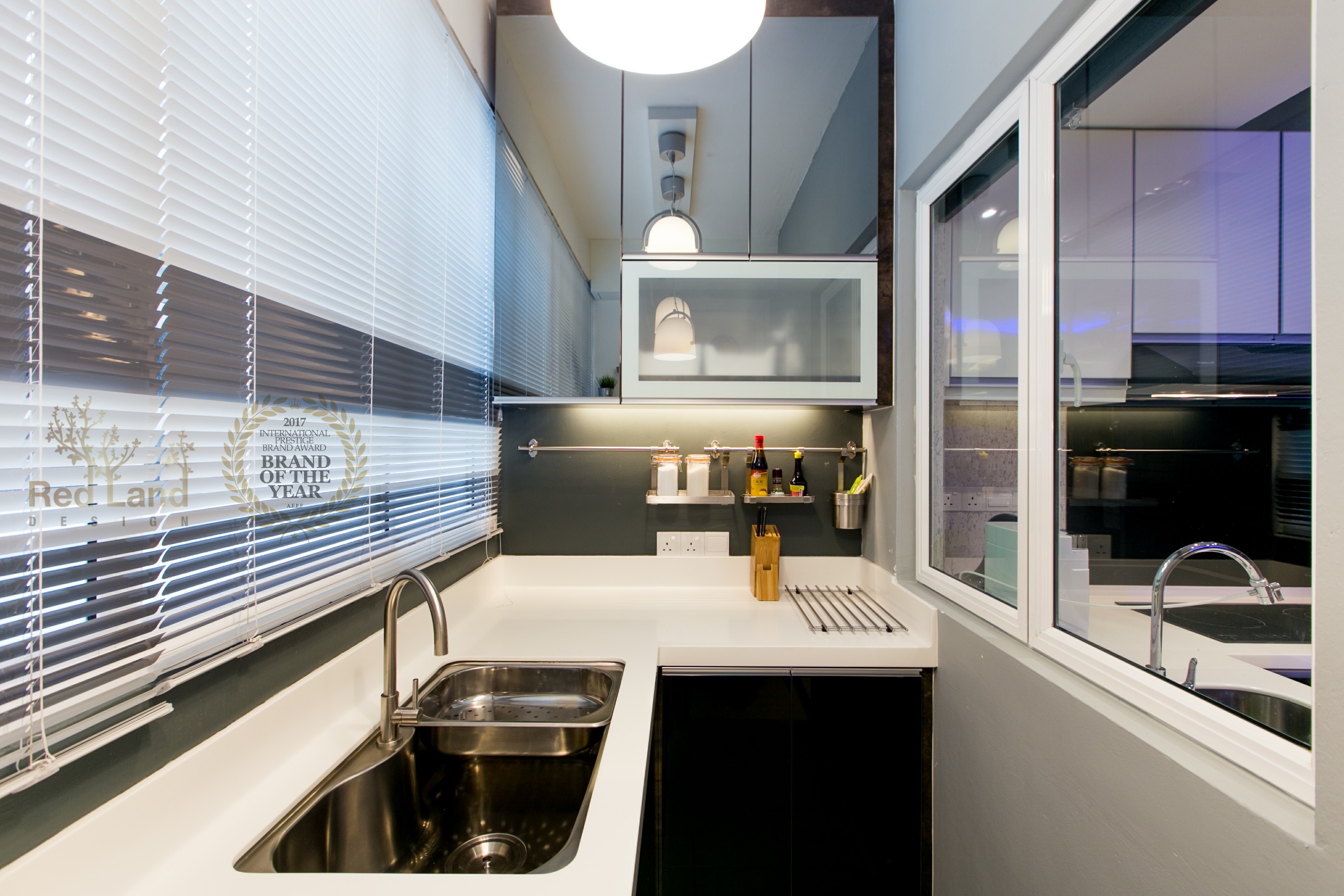 The darker color scheme with glass and mirror door finishing reflection to work with bright white countertop reflects light, making the kitchen appears brighter to balance with the cozy interior result.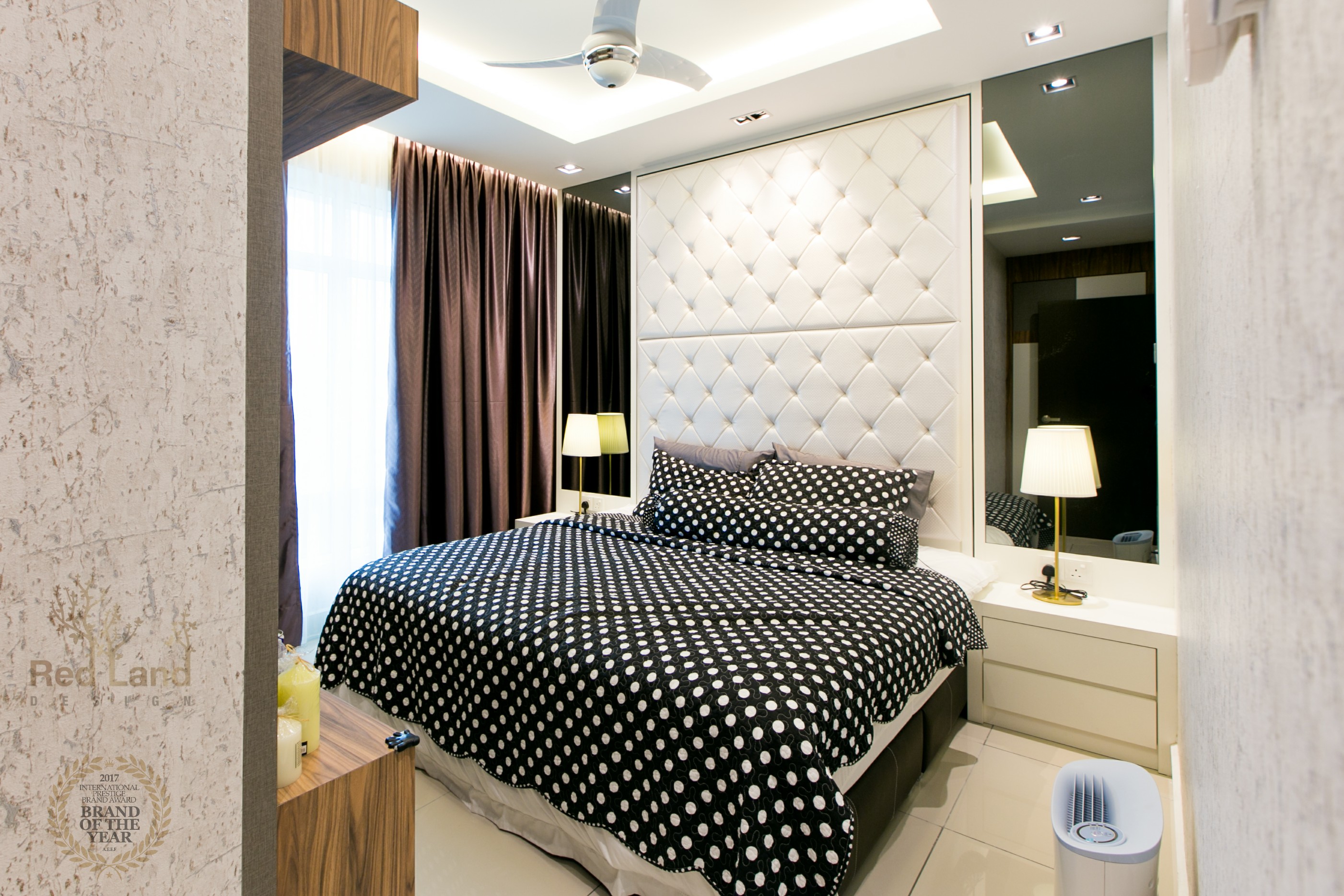 To keep the first bedroom in minimalism with some posh element, we feature bed panel in leather up to maximum ceiling height with diamond shape layout.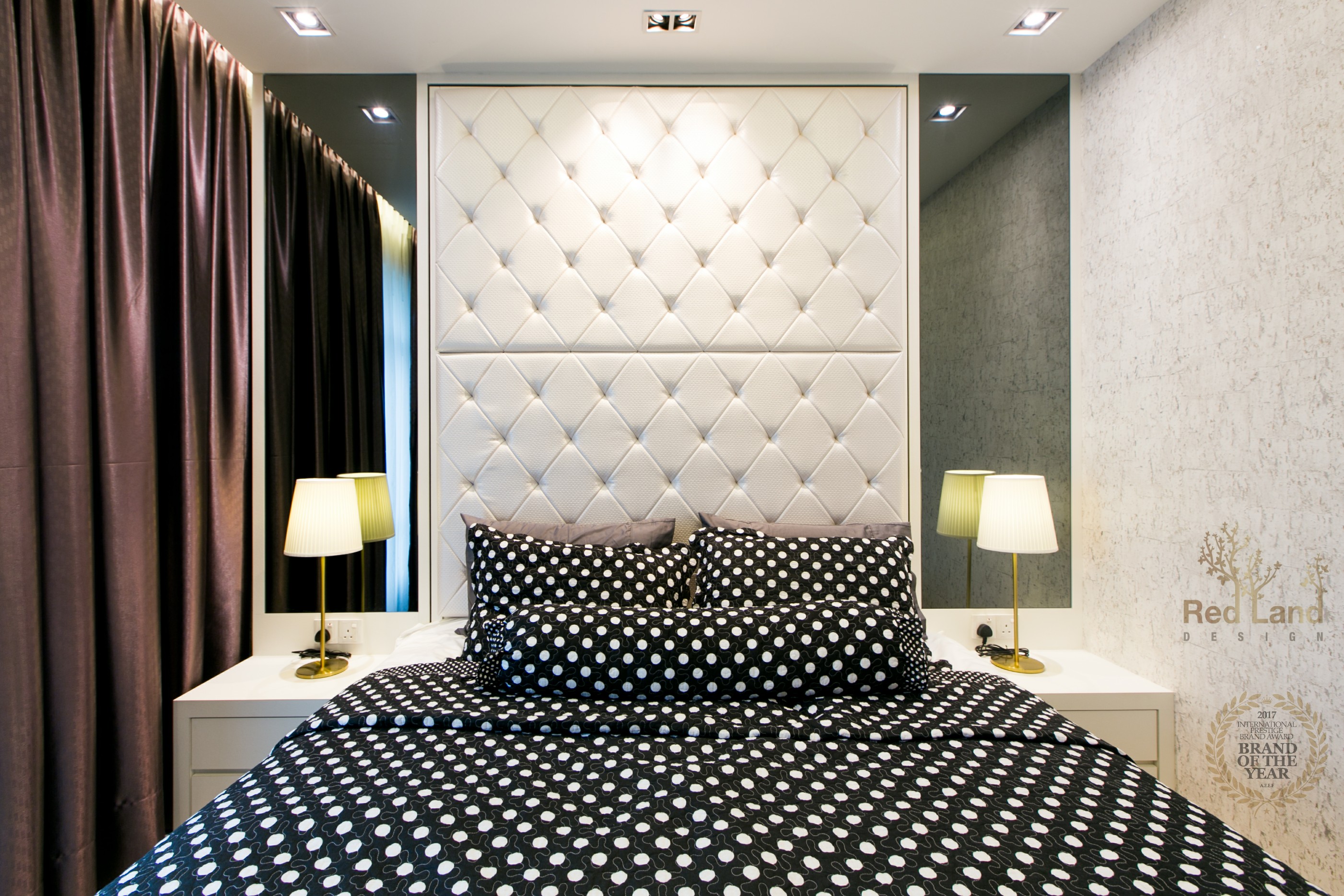 Same formula on enhancing the small interior space, we install tall gray reflective mirror on both side of the cushion panel.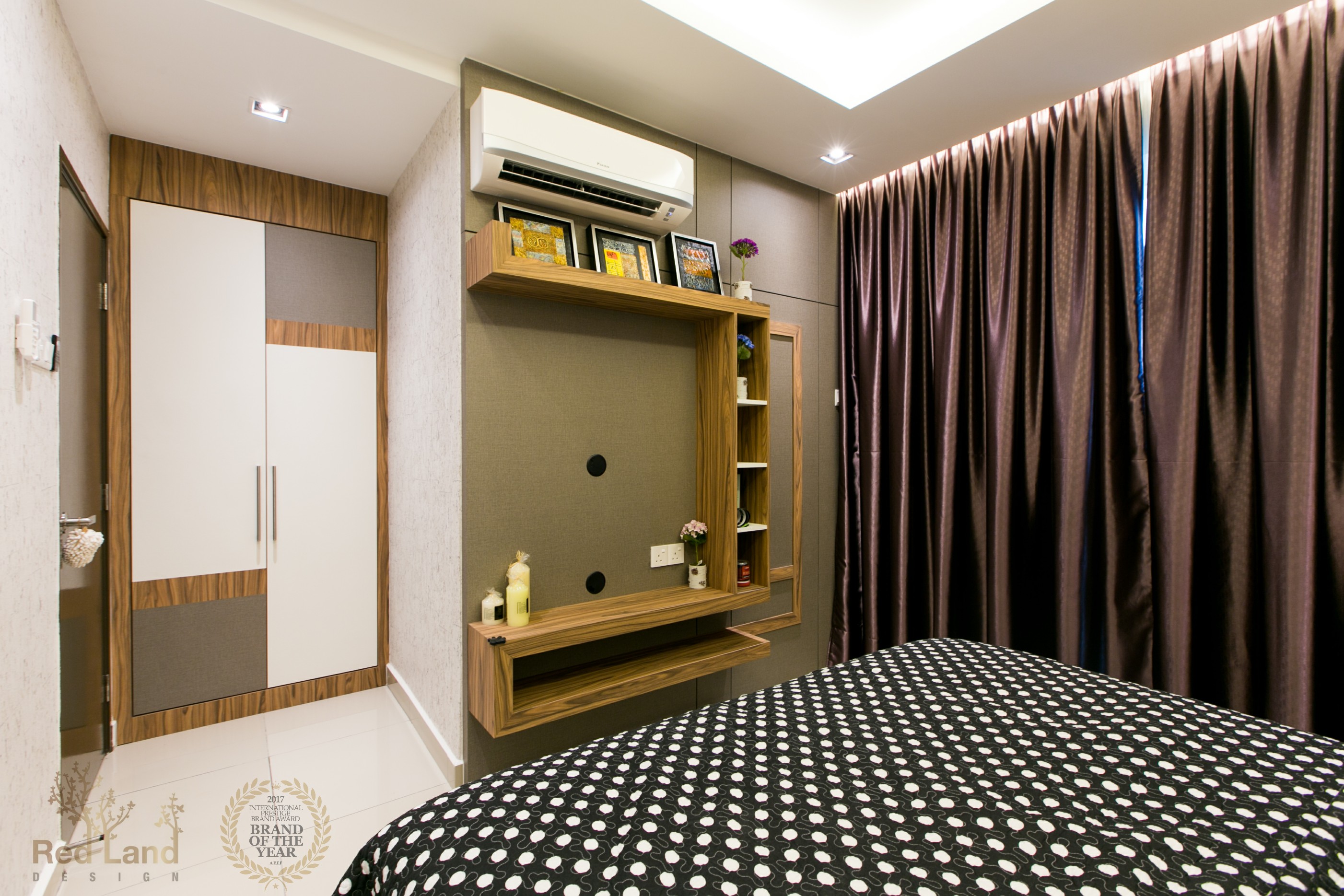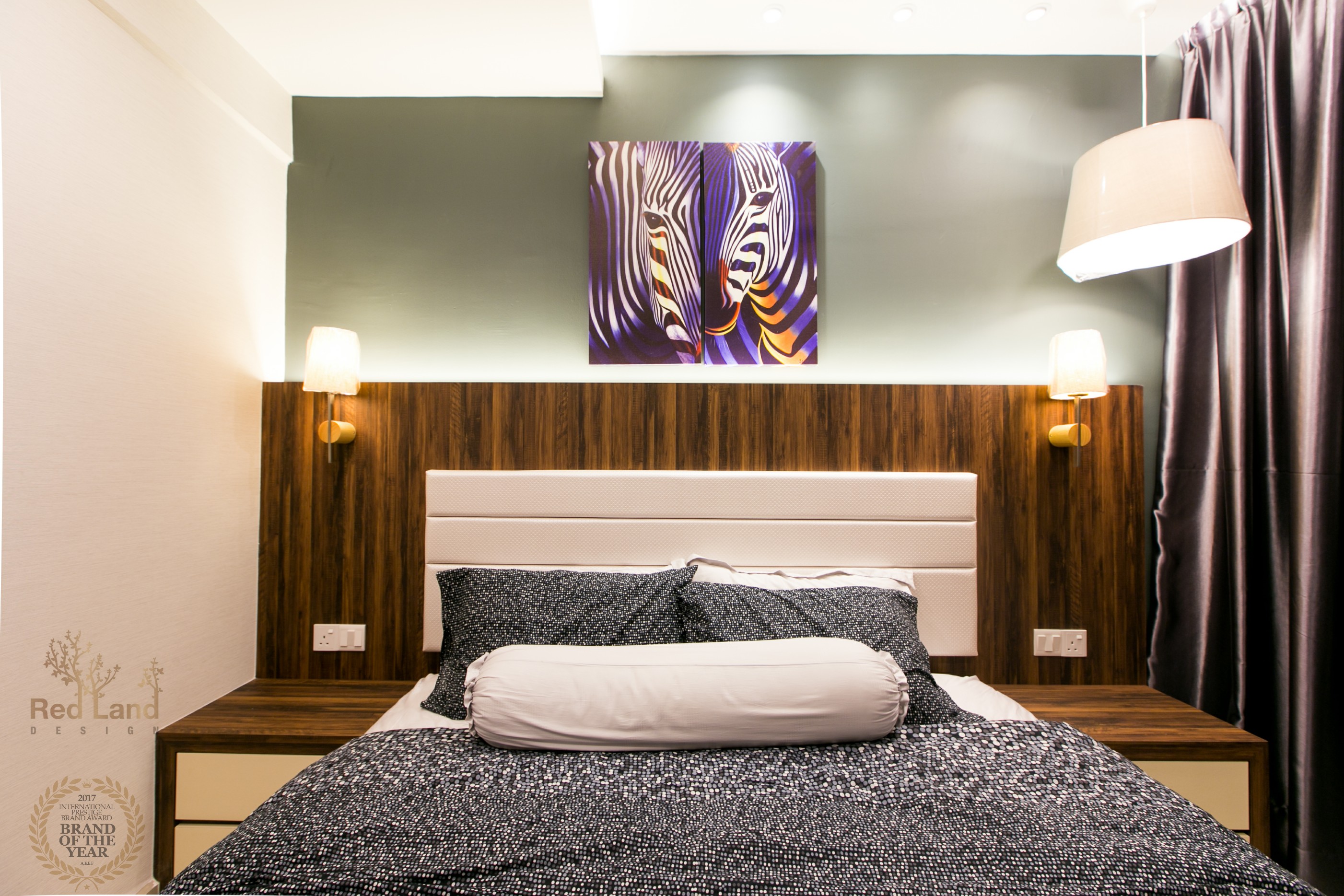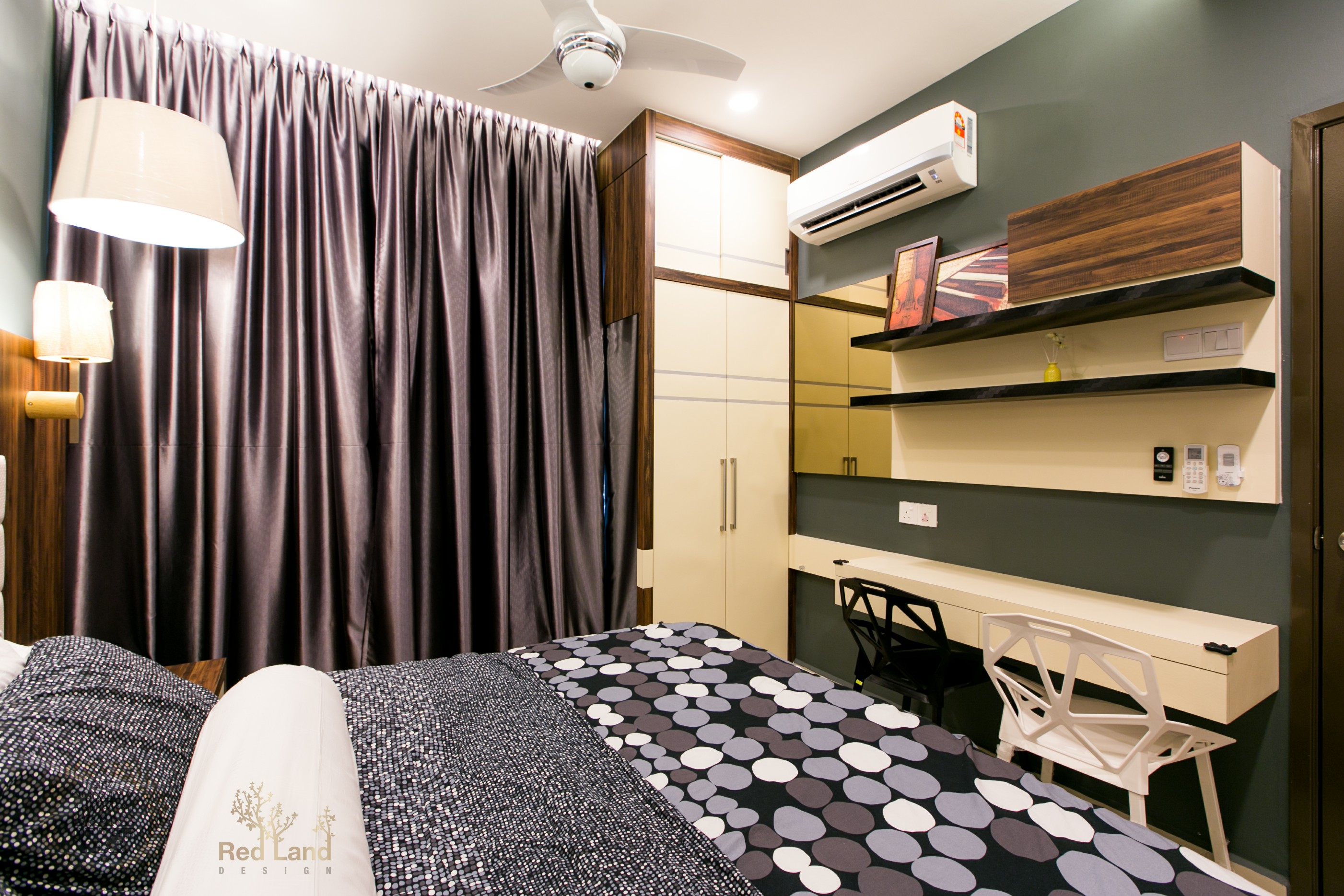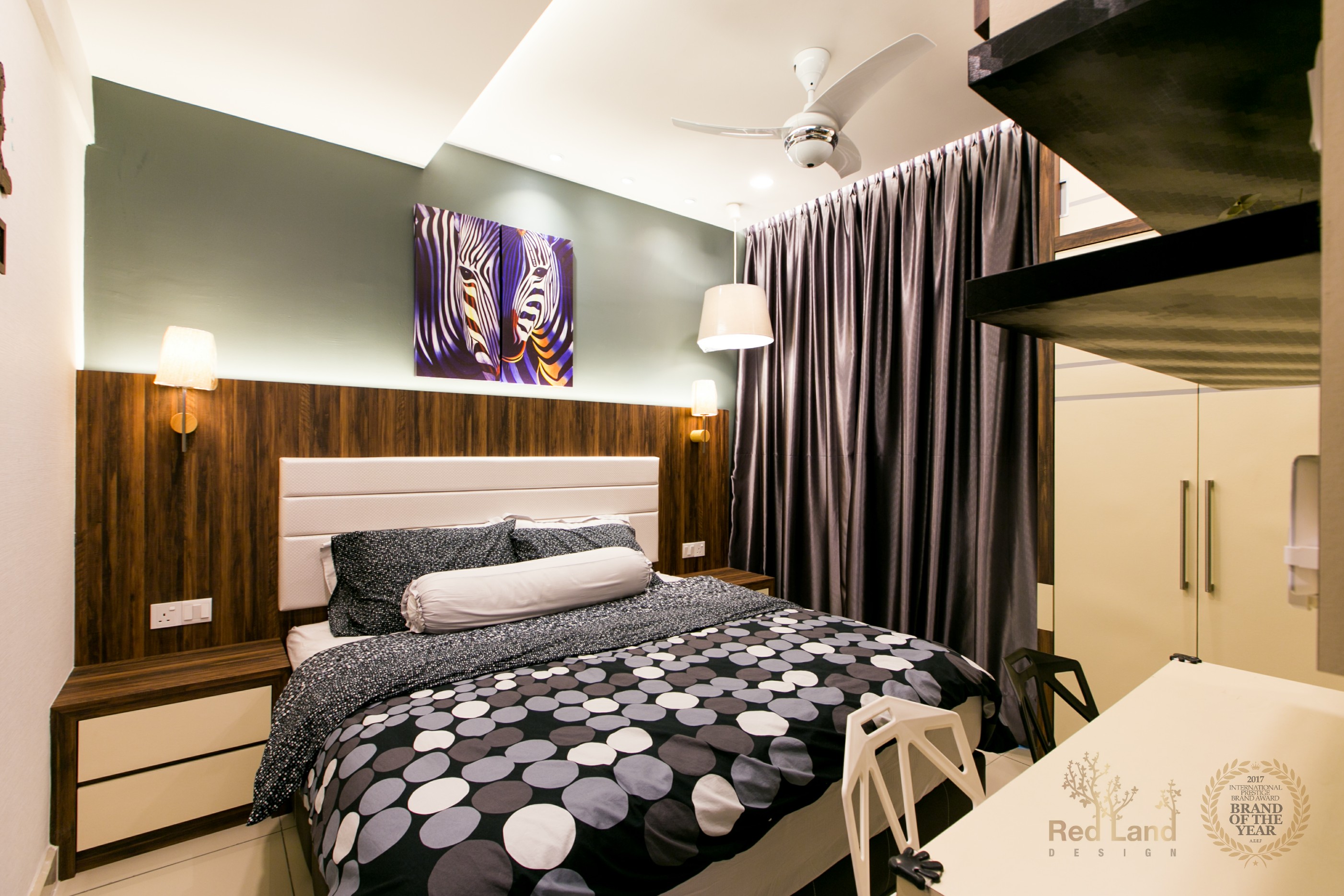 Heavy dark semerang teak laminate contrasting with white color drawers and cabinet door storage for the second bedroom.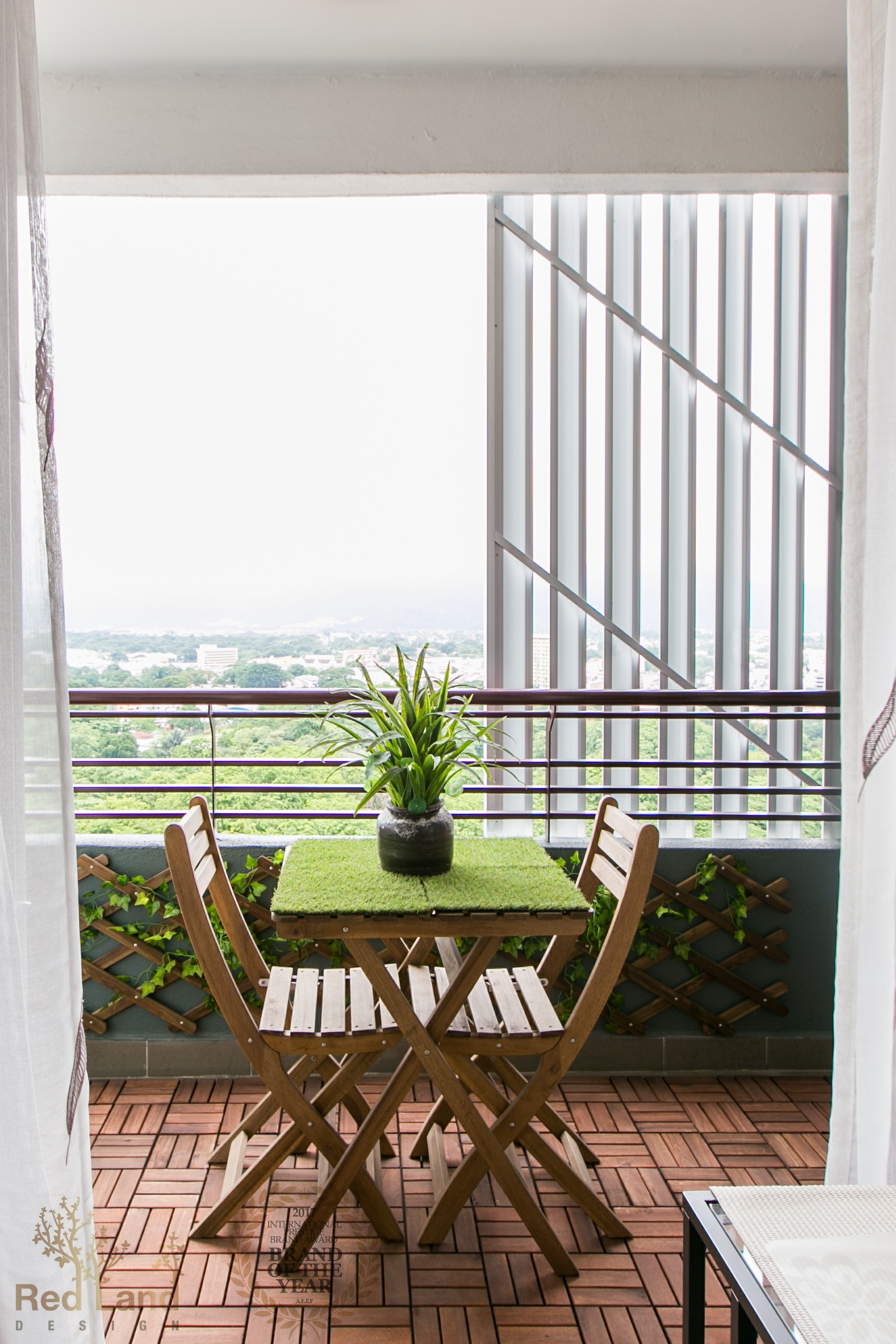 Special thanks to our photographer Cheryl Chan for the photo session. Check out her official blog at http://wanderblossom.com
For more info about this project, reach our Principal of Red Land Design, chris@redlanddesign.com and http://www.twitter.com/ChivasLau